The Best of Ottawa Award Winners and Runners-up 2020
5 October 2020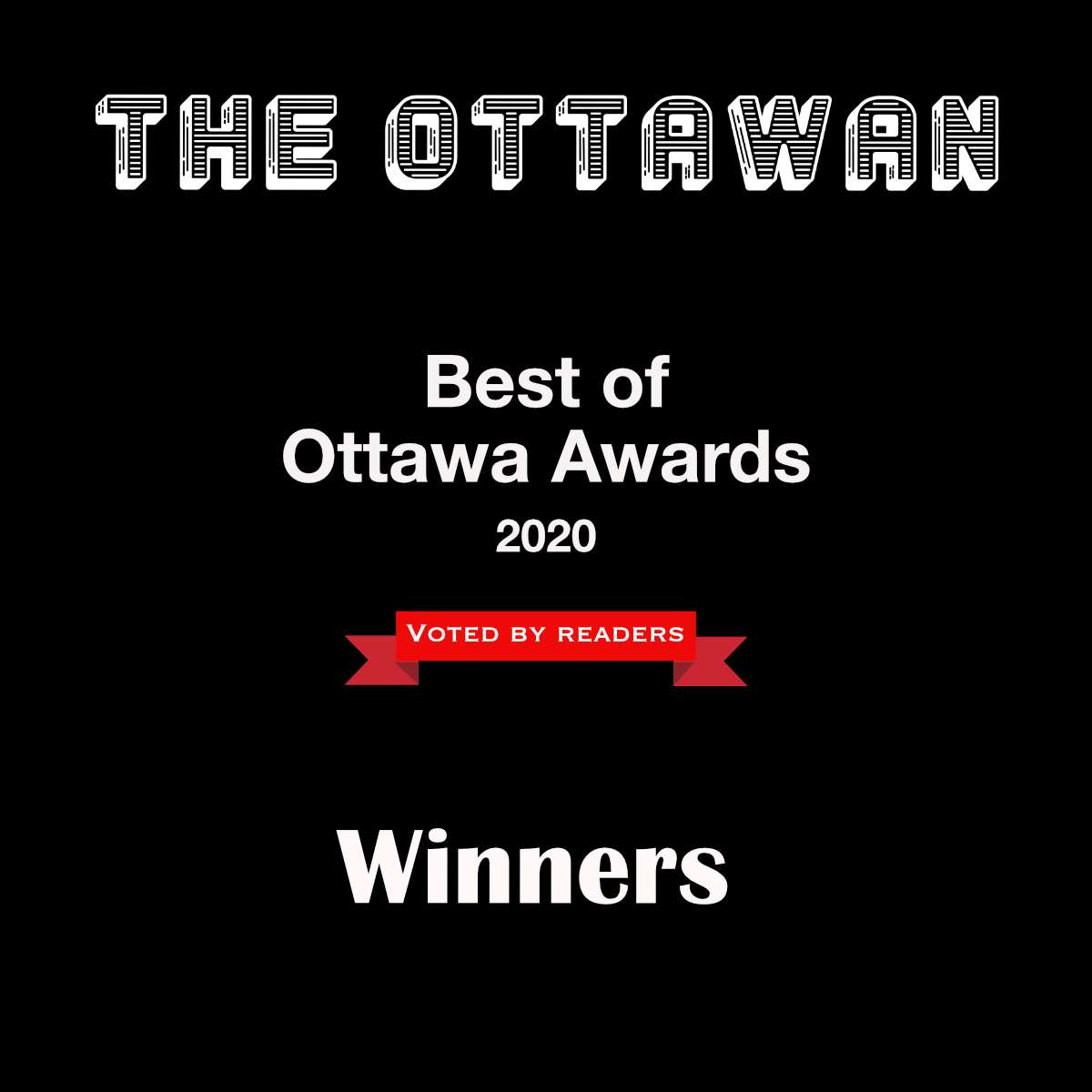 The COVID response has hit Ottawa's shops and restaurants hard. Many have closed, many others are clinging on by their fingertips.
Our goal with the BEST OF OTTAWA 2020 AWARDS is to highlight what is great about Ottawa, to champion those shops, businesses, and services who are fighting the downturn, and to introduce everyone who lives here to something new.  
We're stunned by the response to our first ever awards. There were THOUSANDS of responses. We're confident that this is a pretty good representation of what Ottawa thinks.
So, these people, businesses, and services were awarded the BEST OF OTTAWA 2020. All the winners and runners-up will be receiving a frame-able certificate. To everyone who nominated and voted, thank you for your service.
Best cheap deal/meal under $10
DI RIENZO's
Runner-up: Ahora Mexican Restaurant
Best place to splurge
Runner-up: Riviera Ottawa
Best wine list
Runner-up: The Whalesbone
Best Burger
Runner-up:  The Worx Craft Burgers and Beer
Best Pizza
Runner-up: Farinella
Best Shawarma
Runner-up: Shawarma King
Best Taco
Runner-up: Ola Cocina Taqueria
Best Poutine
Runner-up: Pure Kitchen
Best Food Truck
Runner-up: Ad Mare Seafood Truck
Best Coffee
Runner-up: Equator Coffee
Best Bagel
Runner-up: The Bagel Run
Best African Restaurant
Runner-up: BBQ Golden Grill
Best Caribbean Restaurant
Runner up: Island Grill
Best Chinese Restaurant
Runner-up: Gongfu Bao
Best French Restaurant
Runner up: Le moulin de provence
Best Greek Restaurant
Runner up:  Greek On Wheels
Best Indian Restaurant
Runner up: East India Company
Best Italian Restaurant
Runner up: Trattoria Caffé Italia
Best Japanese Restaurant
Runner up:  Genji
Best Middle Eastern Restaurant
Runner up: 3 Brothers Shawarma
Best Thai Restaurant
Runner up: Khao Thai
Best Vegetarian/Vegan Restaurant
Runner up: The Green Door
Best Patio
Runner up: Tavern on the Falls
Best Ice-Cream/Gelato
Runner up: Moo Shu Ice Cream
Best Local Brewery
Runner up: Dominion City Brewing
Best Local Distillery
Runner up: North of 7 Distillery
Best Local Beer
Runner up: Beyond The Pale Pink Fuzz 
Best Art Supply Store
Runner up: Deserres
Best Vintage Clothing Store
Runner up: Ragtime
Best Vintage Furniture Store
Runner up: WISEMAN + CROMWELL
Best Furniture/Decor Store
Runner up: Zone
Best Grocery Store
Runner up: La Bottega
Best Organic Food Store
Runner up: Farm Boy
Best Farmer's Market
Runner up: ByWard Market
Best Piercing/Tattoo Shop
Runner up: Living Colour
Best Real Estate Agent
MARNIE BENNETT, Bennett Property Shop
Runner up: Tara Shields, Royal LePage Team
Best Women's Apparel Store
Runner up: Giant Tiger
Best Men's Apparel Store
Runner up: Giant Tiger
Best Bookstore
Runner up: Octopus Books
Best Activisit/Activist Group
BLACK LIVES MATTERS
Runner up: Earthub
Best Activist Campaign
BLACK LIVES MATTER
Runner up: Save The Bees
Best Community Hero
JOE THOTTUNGAL, restauranteur provinding food for homeless families
Runner up: Gwen Madiba, campaigner for women & the Black community in Ottawa 
Best City Councillor
CATHERINE MCKENNEY
Runner up:  Mathieu Fleury
Best Member of Provincial Parliament
JOEL HARDEN
Runner up: Yasir Naqvi
Best Member of Parliament
CATHERINE MCKENNA
Runner up: Peter Julian
Best Neighbourhood
CENTRETOWN
Runner up: Hintonburg
Best Place to Bring an Out of Towner
BYWARD MARKET
Runner up: Gatineau Hills
Best Local Podcast
Runner up: The Interview Dudes
Best Local Instagram - Personality/Content Creator
Runner up: @LuckyLittleQueer
Best Local Instagram - Photography
Tie: Runner up: Brittany Lee Smyth
Tie: Runner up: Cory Conty
Best Local Instagram - Pets
Runner up: @theguiltypoodle
Best Locak TikTok
Runner up: @gghamar
Best Ottawa Blogger
Runner up: Amy Karlin, Amy In 613
Best Local Website
Runner up: Reddit Ottawa
Best Local TV Personality
ADRIAN HAREWOOD, CBC
Runner up: Matt Skube CTV Ottawa
Best Local Radio Personality
MAULER, RUSH, AND JENNI HOT 89.9
Runner up: Alan Neal, CBC All In A Day
Best Local TV Station
CBC
Runner up: CTV Ottawa
Best Campus/Community Radio Station
CKCU FM 93.1
Runner up: CHUO 89.1
Best Radio Station 
CBC RADIO ONE 91.5
Runner up:  Hot 89.9
Best Local Twitter
Runner up: @YOW_weather
Best Local YouTube
Runner up: Elle Mills
Best Local Band
Runner up: Hollerado
Best Musician
Runner Up: Lucky Ron