8 Canadian Made Stocking Stuffers
Friday December 2, 2022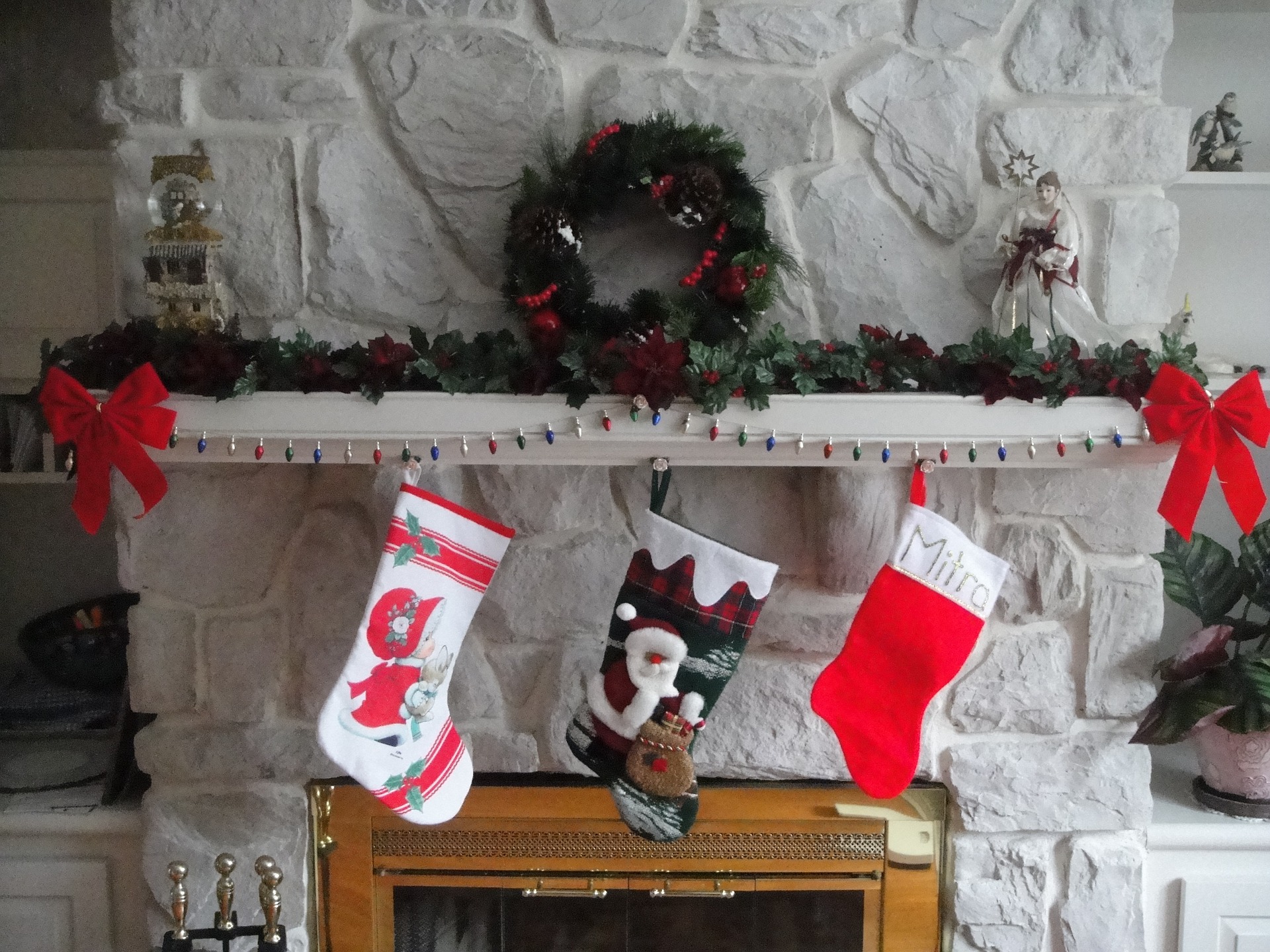 🧦 Wood Chip Decor magnets (Elmvale, ON) ($19.99) 🧦

🧦 Bag of coins by Stratford, Ontario's Rhéo Thompson. Six milk chocolate coins in a reusable organza bag. $5.95

🧦 Socks by Province of Canada. In range of lengths, materials. Cute styles. Oh, and it's buy one, give one. They donate a pair to a Canadian homeless shelter.

🧦 Lavender, Cedar & Wintergreen Mist for air and fabrics ($20), made in Quebec by Belle à Croquer. Other fragrances are available.

🧦 Peony and Olive Leaf Sparkling Milk Bath Cube by Montréal's Dot & Lil ($8.50)

🧦 Stocking Stuffer beer and glass from Whitewater Brewing $12.95

🧦 Trinket dish by Emri Home of Orléans. ($8)

🧦 Wood Block Candle Holder from Ottawa's Morai Home (from $15).
Canadian-made advent calendars for 2022
This collection of Canadian-made – but mostly Ottawa-made – advent calendars will keep you in a holiday mood for every day for around 24 days.
Saturday November 26, 2022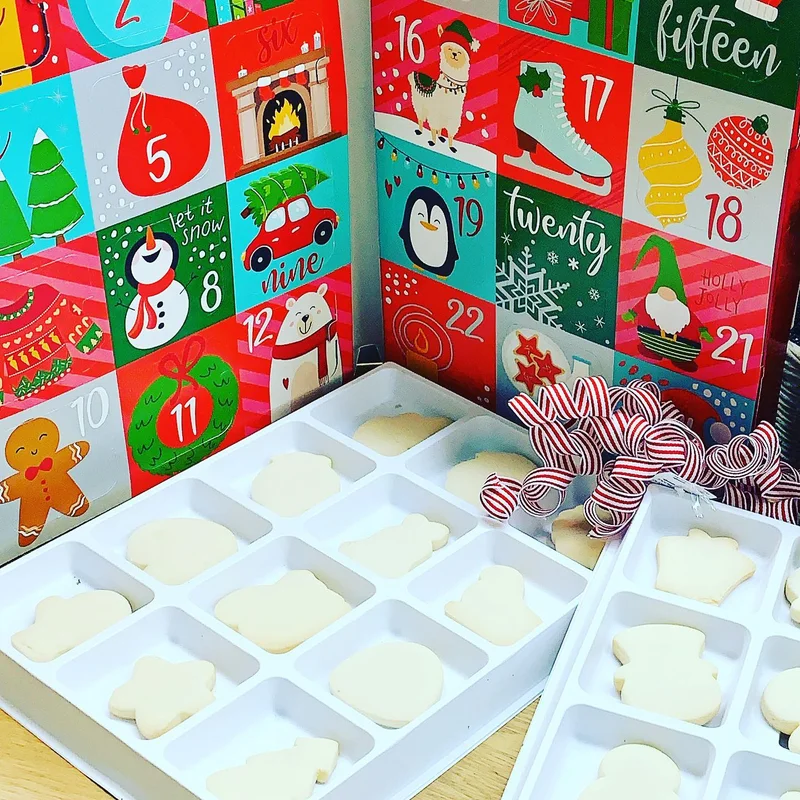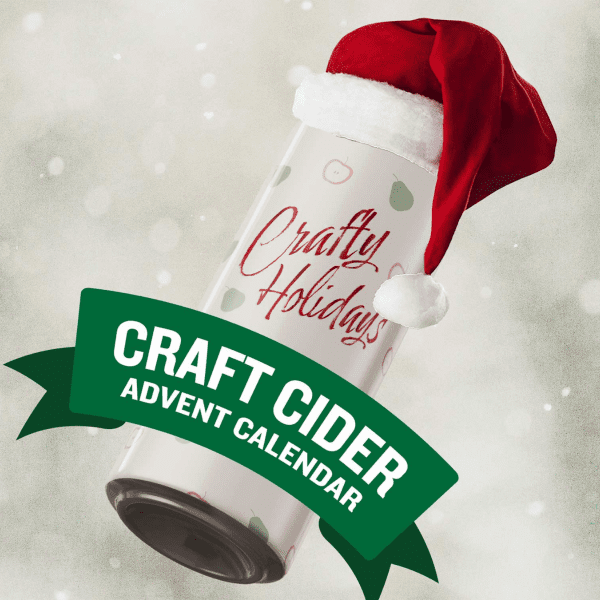 ---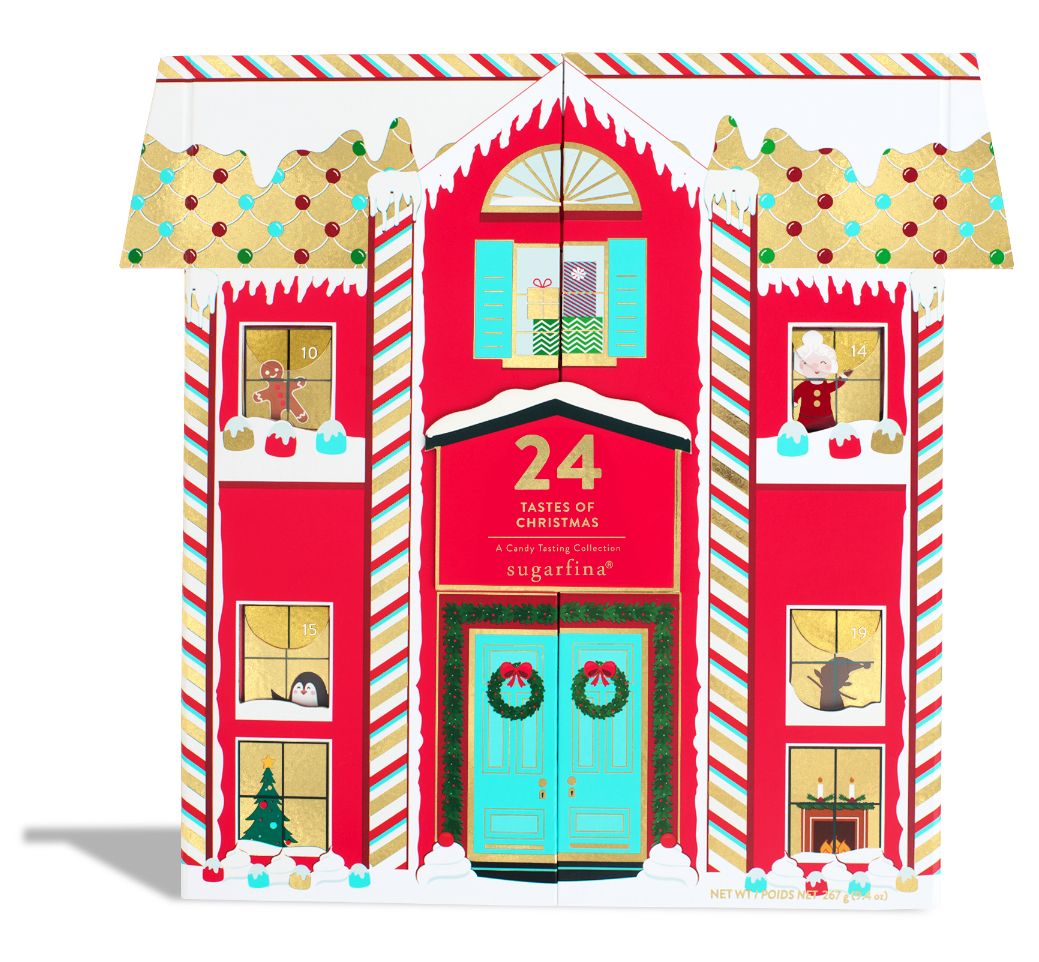 ---
La Confiserie Wakefield offers 24 days of little chocolate treats. ($29.95)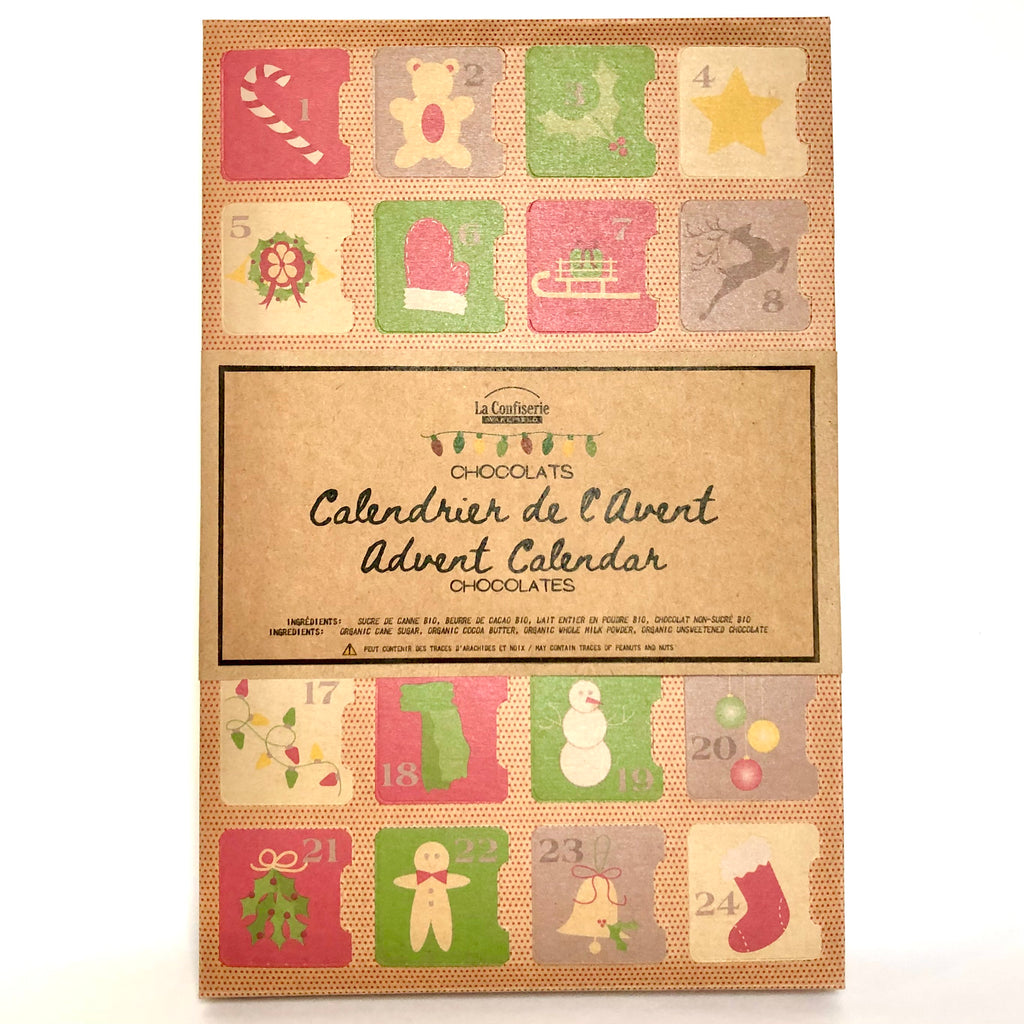 ---
The Advent Calendar from Stubbe Chocolates Ottawa is perfectly lovely ($33), but their Chocolate Truffle Box is next level decadent. It's literally a box made of chocolate, filled with chocolate truffles. Available empty or filled with alcohol or other delicious centres, prices start at $44.50 for 12.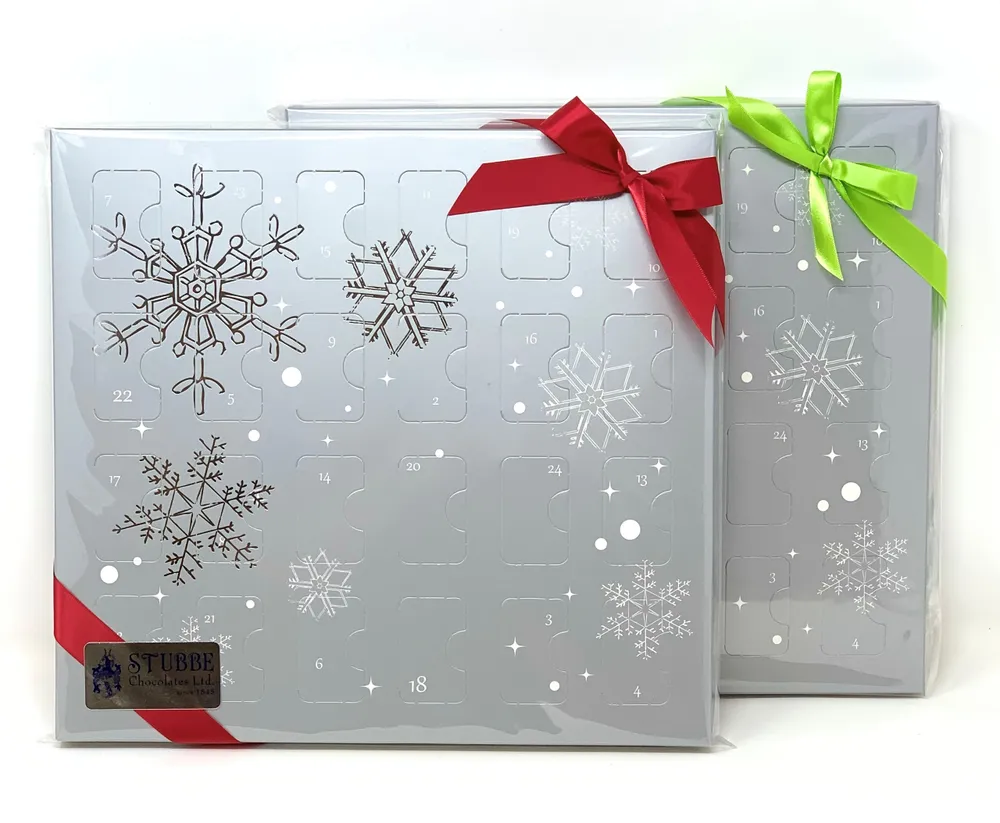 ---
Perfect for cold winter mornings, the Bonne Maman Limited Edition 2022 Advent Calendar has 24 adorable mini jams, jellies, and marmalades. Available at Papa Jack popcorn for $48.99.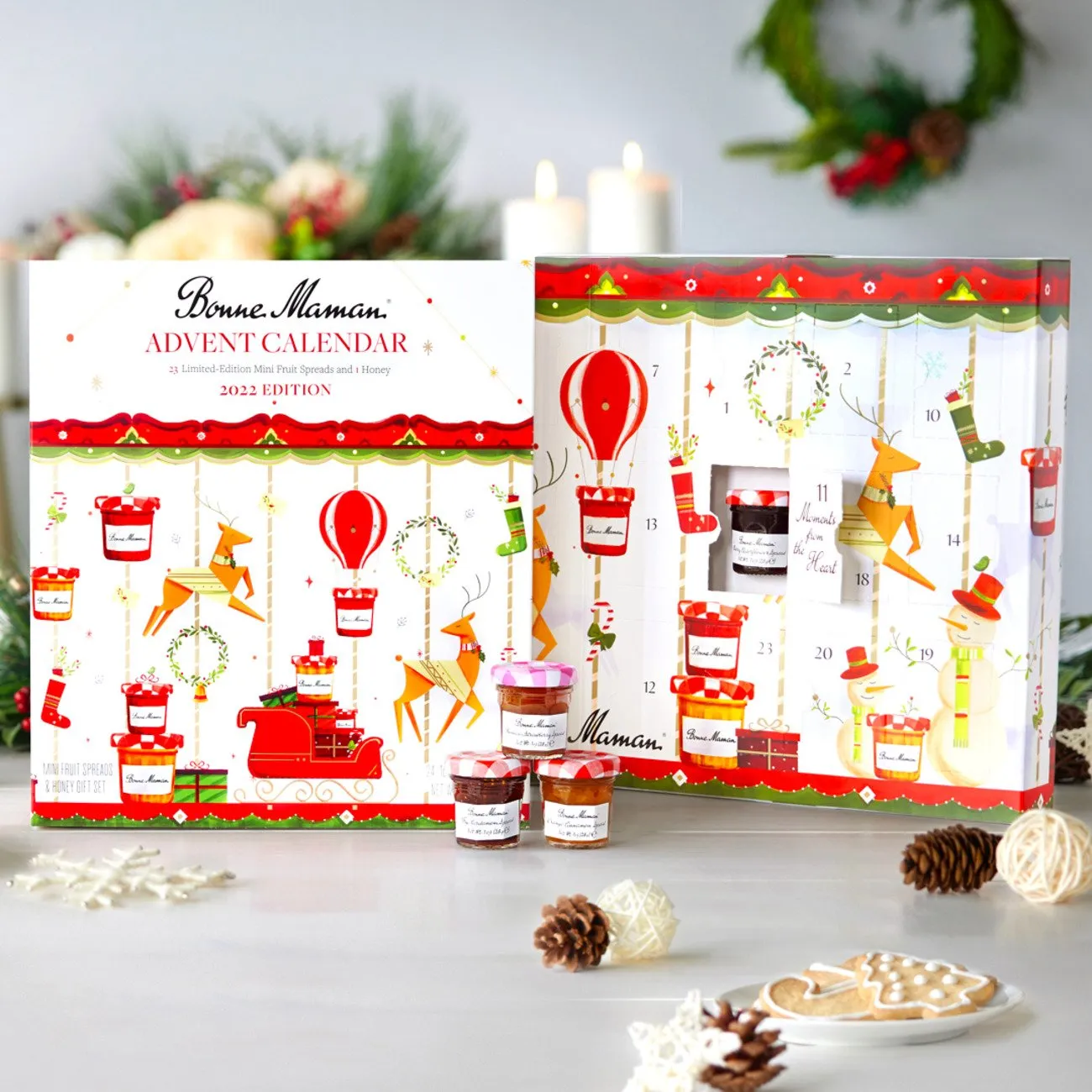 ---
The Aux Délices Advent Calendar is available now for preorder. Pay $75 for a box of 24 individually wrapped gingerbread and sugar cookies and pick up the box on November 25, 26, or 27.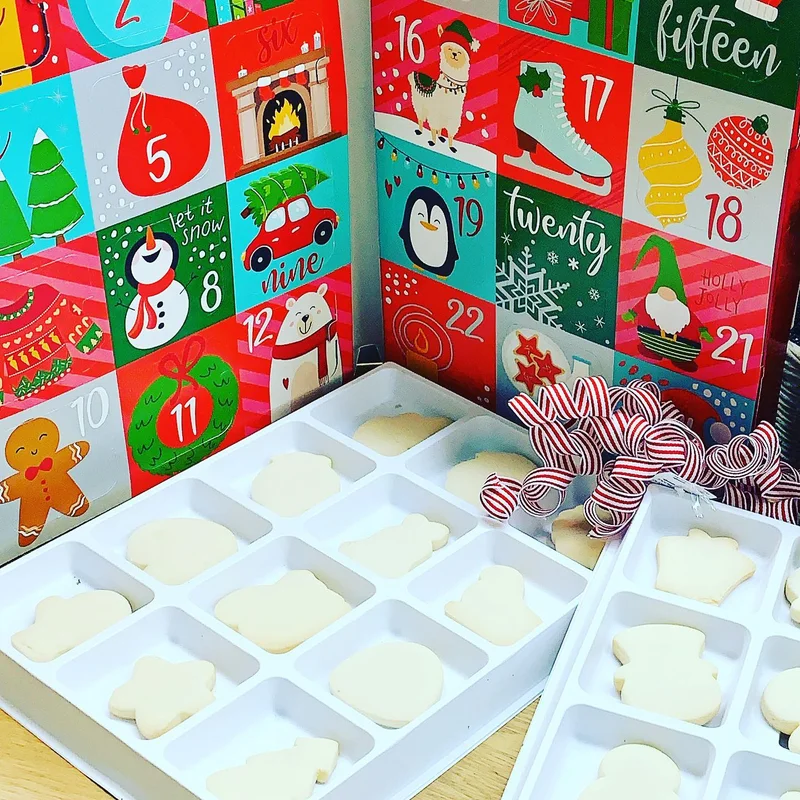 ---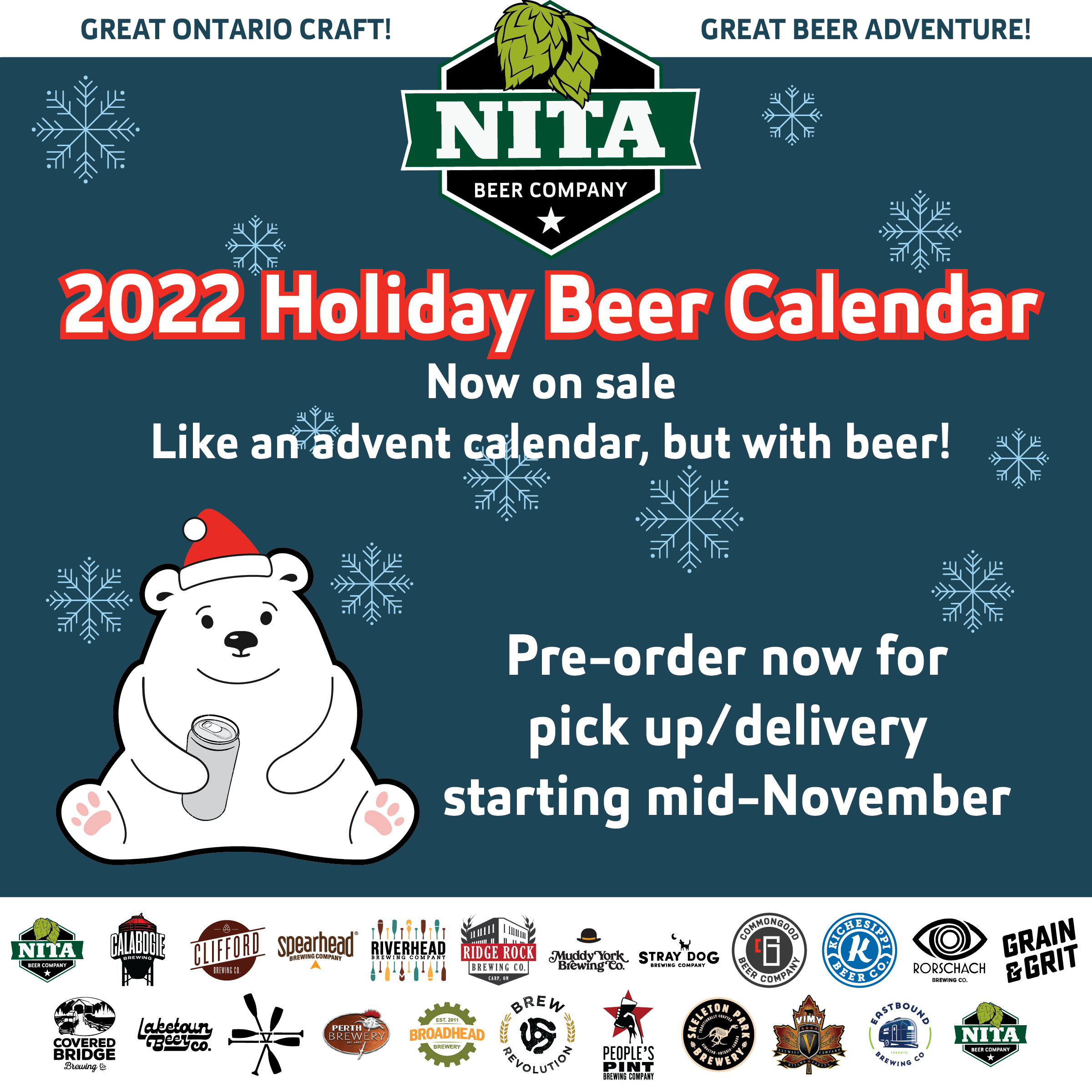 ---
Maker House Advent Calendar is a consistent sell-out. It's a big ol' box of Canadian made food and drink, decor, bath and body products, ornaments, and more. ($229.95)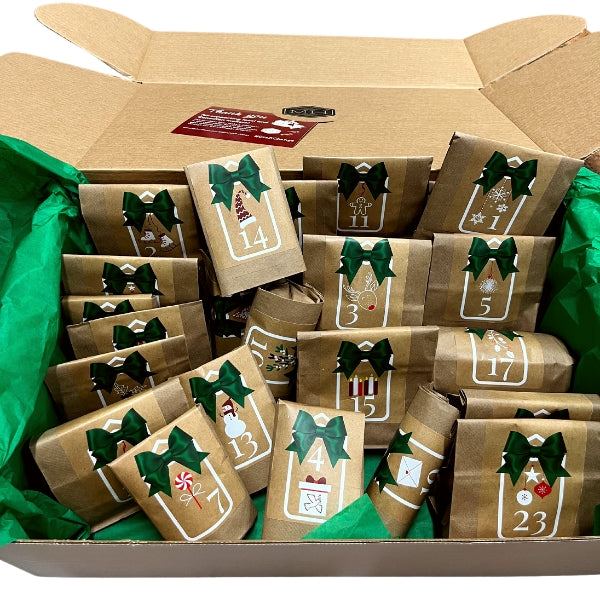 ---
Squish Candies of Montréal offers a Vegan 24 Days of Candy, filled with plant-based gummies. ($46.99)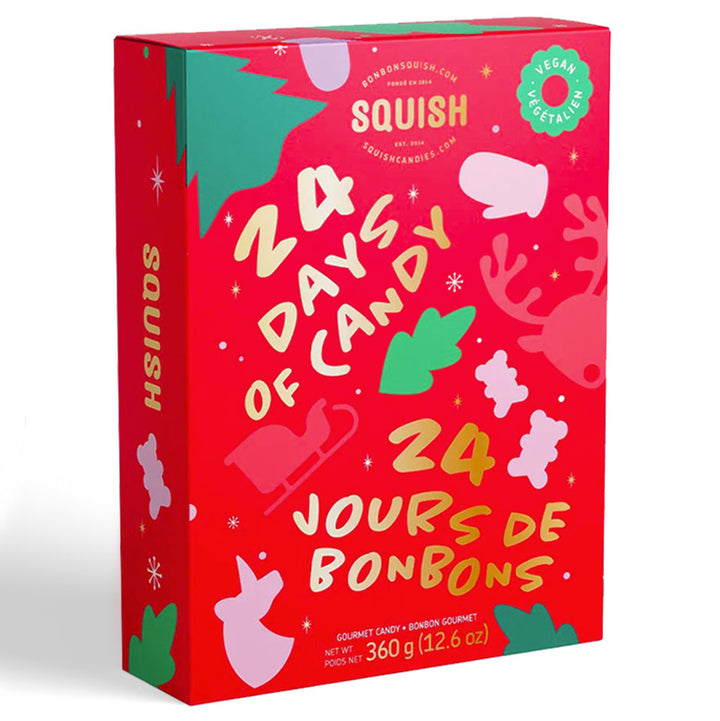 ---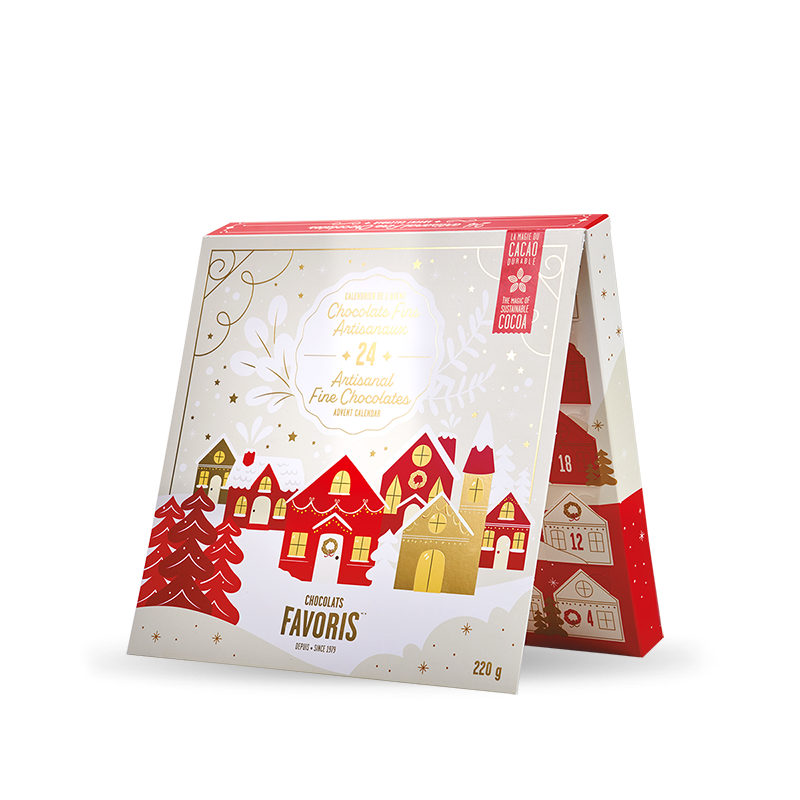 ---
DavidsTea makes sure that tea drinkers, including those who do not consume caffeine and those who prefer matcha, are looked after, with three gorgeous Advent Calendars ($38.50).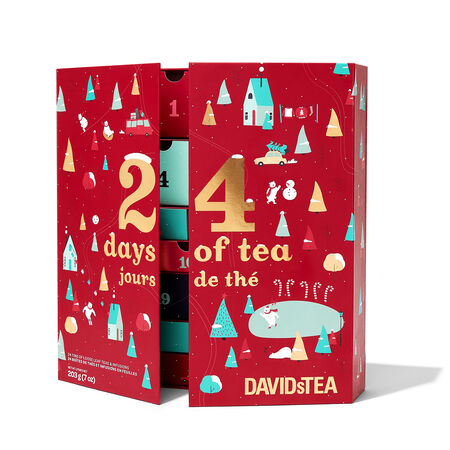 ---
Purdys Elf Village Chocolate Advent Calendar is one for the kids (of all ages, that is, for $26). Meanwhile, the Vegan Chocolate AdventCalendar is a stylish green tree-shaped box with 24 drawers of bite-sized dairy-free treats. ($30)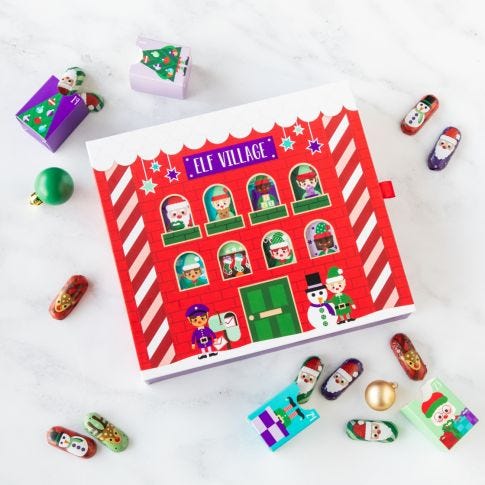 Where to watch Canada in the World Cup
Wednesday November 23, 2022

Where to watch the most important match of the Fifa World Cup 2022 – so far. Tomorrow, at 11:00 pm, the Canada men's soccer team face 12th ranked Croatia. Support team Canada at your favourite local haunt (if you're working from home, who's going to know?), some of which will be open from 7:00 am during the tournament.

Oh, and for bonus points at the bar, you can casually mention that Canada's Geordie coach John Herdman ('Geordie' being a nickname for people born in the Northeastern region of England) has never played professional football. That didn't stop him from leading national women's teams in New Zealand and Canada, the latter of which won a bronze at both the London 2012 and Rio 2016 Olympics under his watch.
Here's where you can watch Saturday's game:
⚽ Glebe Central Pub is hardcore soccer minded, so during the FIFA World Cup 2022 tournament you can expect daily door prizes, giveaways, trivia fun at halftime, and drink and food specials. 779 Bank St.
⚽ Spark Beer & Pizza is showing the 2 pm World Cup matches every day, with an 11 am match on Saturday. Pizza and beer specials after 2 pm. 702 Somerset Street W, K1R 6P6
⚽ On game days until November 28, the Senate Tavern on Clarencewill be open from 11:00 am; from November 29 to December 18 it will open at 10:00am. 33 Clarence St.
⚽ St. Louis Bar & Grill: 780 Eagleson Road will open at 11:00 am every game day. The North Kanata (5035 Innovation Drive) and 1331 Clyde Avenue locations will be open from 11:30am, and the Elgin St. bar will fling open its doors at noon.
⚽ Jack Astor's at Lansdowne Park will open at 12:00 pm tomorrow and every other game day until Sunday. On Mondays and Tuesdays the doors open at 2:00 pm. What to buy: when you order a Burger and a Bud for $29.97, you'll receive a cold-activated official souvenir cup for your beer.
⚽ Lowertown Brewery is open at 11:00 am and will be showing the match on the big screen. 73 York Street.
⚽ All Heart and Crown pub locations will be screening every match and offering drink deals, food specials, and prizes. Doors open at 11:00 am.
⚽ Pubwells at 96 Preston St is open from 11:00 am to midnight Tuesday to Sunday during the Fifa World Cup.
⚽ Hive Fives Sports Pub, will be open from 7:00am and they want to you wear your red and white. What to buy: $5 bottles of Canadian and Canadian burgers with pea meal bacon and cheese for $17.99. 1876 Robertson Road.
⚽ Hometown Sports Grill will be showing all matches starting at 8:00 am and later, and during each Canada match they'll be drawing names to win a Team Canada jersey. 1525 Bank St.
⚽ Tailgators opens at noon and will be offering the regular menu. 1642 Merivale Road.
How Ottawa city councillors seeking reëlection voted on contentious issues
Wednesday September 7, 2022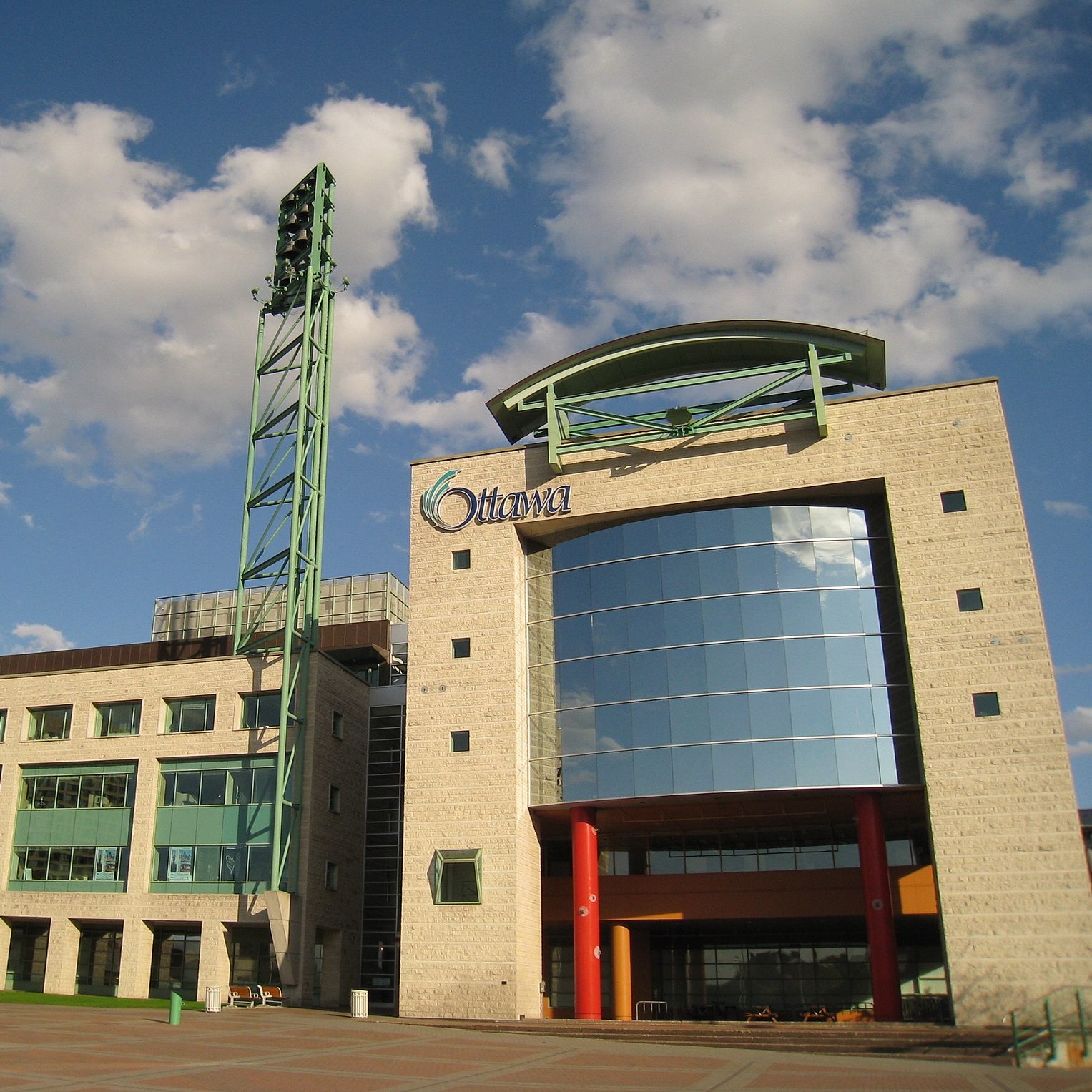 Yesterday, CBC journalist Justin McElroy made a chart on Vancouver councillors contentious issue votes. This morning, CTV Ottawa's Ted Raymond wrote a story on how Ottawa councillors voted on contentious issues. So we took CTV's data and combined it with CBC's graphic and voilá: How Ottawa city councillors seeking reëlection voted on contentious issues.
There are 23 current councillors in Ottawa – this chart only shows the votes of those who are running again in Oct. Catherine McKenney of course is running for mayor, not councillor.

Cathy Curry, Catherine Kitts, and Rawlson King were not elected in 2018 like the rest and arrived on council at different times, later. The blank spots are from their before times.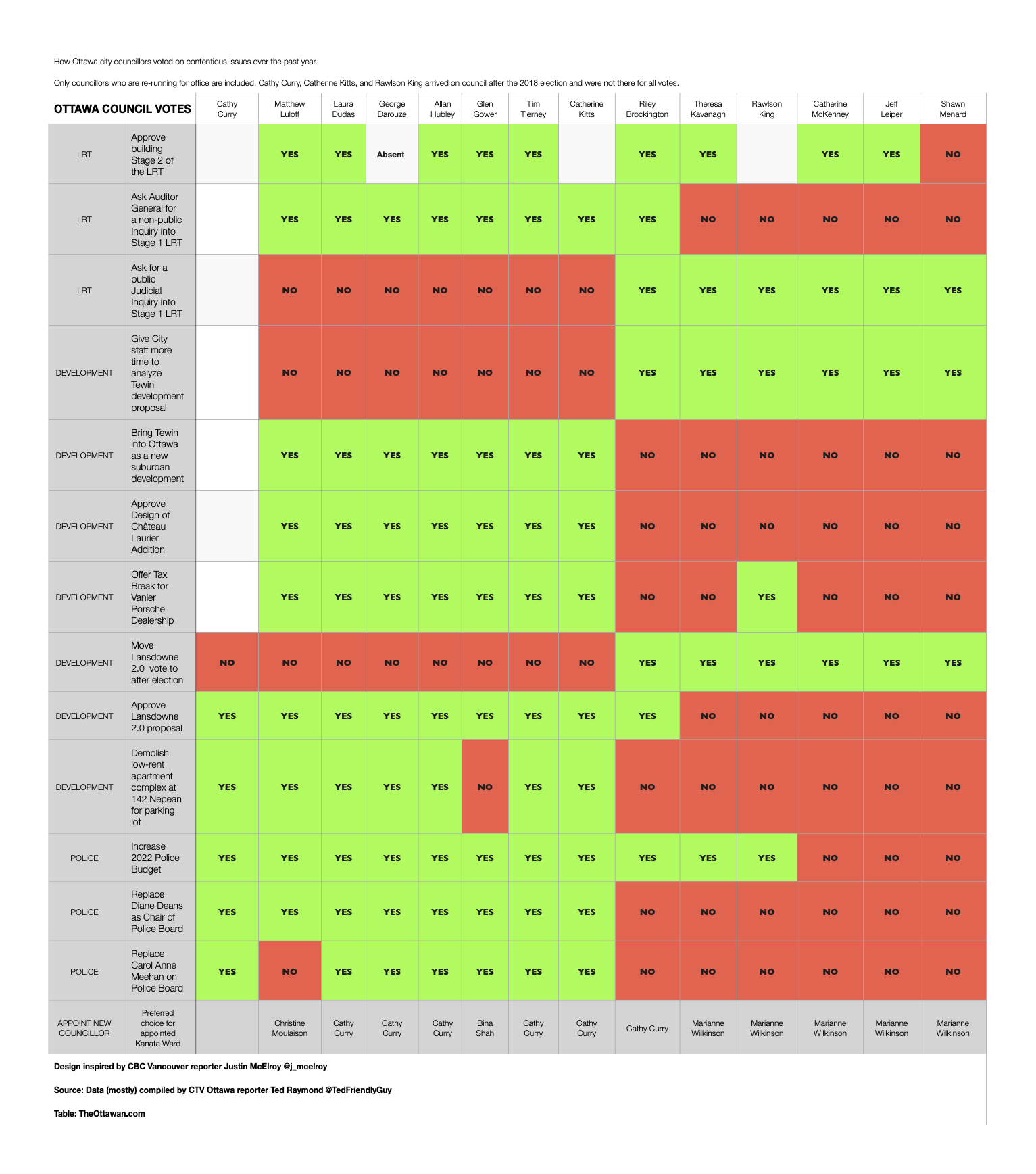 ?️ We want you to run for City Council
Wednesday August 17, 2022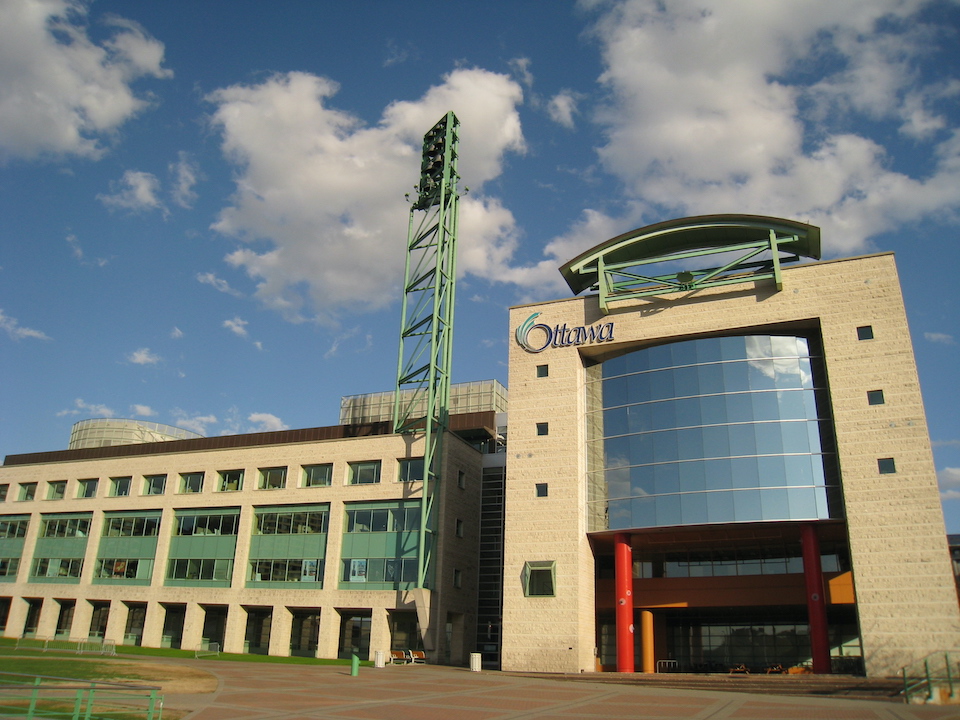 The Orléans West-Innes and Rideau-Rockcliffe wards only have one candidate each for the upcoming civic election – the existing councillors. Councillors Laura Dudas and Rawlson King could win by acclamation unless someone steps up.

That someone should be you. And if you don't live in Orléans West-Innes or Rideau-Rockcliffe, it doesn't matter. You can run in any ward you choose – you don't need to live there. (Or, sigh, rent or own property there or be the spouse of etc. etc.).
▫️ The deadline for filing as a candidate is 2 pm this Friday. Any citizen, at least 18 years old, who is a resident of Ottawa can run for council, If you rent or own property in the City OR you are the spouse of someone who rents or owns property, you are also eligible.
▫️ You need to fill out the candidacy forms found here and pay $100 for councillor or $200 for mayor. You get that money back if you file your post-election expenses report by 2 pm March 23, 2023.
▫️ You need to get 25 voters to sign your nomination papers. They don't need to be people who want to vote for you.
▫️ Lastly, and this is where people screw up, you need to make an appointment at City Hall before 2pm this Friday to bring in your papers. The phone number is 613 580 2660 and email is [email protected] You can make the appointment before you have all your nominations.
Now, we're not suggesting that you will win. Considering nominating yourself 72 hours before the deadline is probably not the hallmark of a winning campaign.
But that's not the point. When you run for council, your concerns now matter: you get to bring them up at all-candidate meetings, you get to debate them with the person who will probably win and pin them to a position, your agenda will be quoted in the media.
Just bringing your concerns to the table will encourage others to question their candidates, and increase or decrease their chances. Few things annoy an incumbent candidate as much as a rival with nothing to lose. Darren should know; he once ran for the Mayor of Vancouver and received 23 votes, but that's a story for another day.
So do it. Get 25 nominations from your neighbours and spend the next two months muckraking. The worst thing that can happen is you'll win.
36 Hours in Québec City
Monday August 15, 2022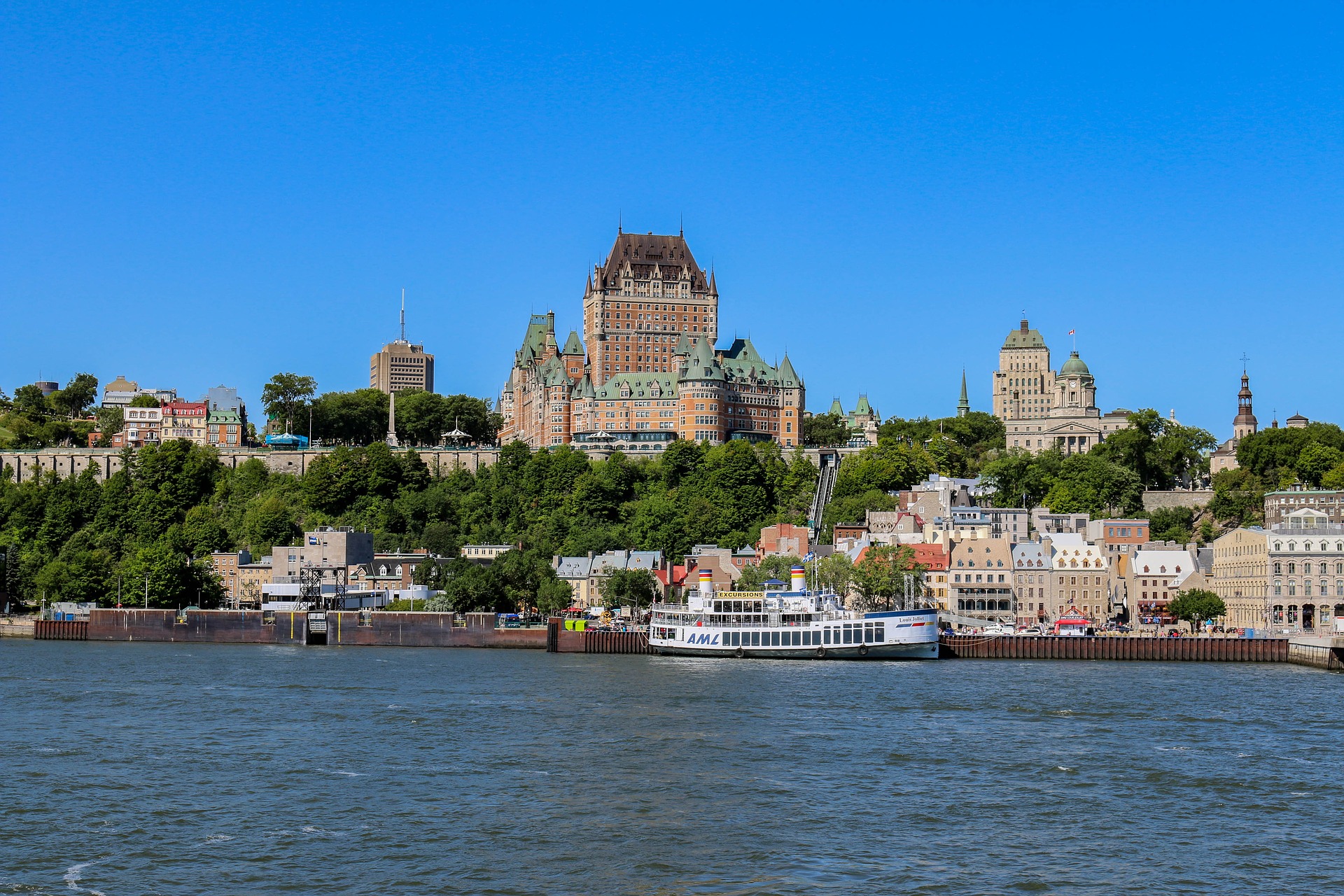 Over the weekend we took an impromptu trip to Québec City to play tourists and enjoy a quick jolt of old world culture.

At six hours' drive from the western edge of Ottawa, it's probably the farthest we would go for a weekend trip, but the drive was easy and aside from traffic jams in Ottawa and Montréal, it was stress free.
We arrived Friday evening and spent Saturday walking for hours, eating delicious food, and drinking flavourful local beer, before sleeping very well in a gorgeous boutique hotel.
We splurged on the penthouse at Hotel Manor d'Autueil, a charming and friendly hotel in Vieux Québec. Our room included a reserved table on the rooftop terrace, where hotel's resident cat Tyger the Bengal wandered by to greet us, albeit from a haughty distance. Tyger might have been standoffish, but the rest of the hotel staff couldn't have been friendlier or more helpful.
After enjoying the hotel's continental breakfast on Saturday morning we headed out to soak in the rich history of the old town. We spent the morning wandering the Citadelle de Québec, taking not one but two tours, one of which took us into the Governor General's residence, which is nestled next to a barracks.
Next we wandered across the Plains of Abraham to the small but stunning Jardin Jeanne d'Arc, which had been recommended to us by our server at breakfast.
By this time, although we had had vague plans of visiting the Musée national des beaux-arts du Québec, we had worked up an appetite. Leaving the museum for a future return visit, we walked down Avenues Briand and Cartier to Blvd René-Lévesque (which becomes Saint-Jean after a couple of blocks), looking for somewhere cheap and cheerful to eat (did I mention that we splurged on the hotel?).
We quickly ended up at the Chez Victor location at 145 Saint Jean, where salads, burgers, and local beer renewed our strength.
After lunch, we continued along Saint-Jean, stopping at several of the many bookstores dotting the way. We eventually reached our destination, the Breakneck Stairway that leads down to the shopping district of Quartier Petit Champlain, but before we started down the steps to join the throngs of other tourists, a poster for the Musée de Bad Art caught our eyes. Of course we had to check out the exhibition of carefully curated bad art; it was free, it only took about 20 minutes, and it was hilarious.
We then joined the masses on the stairs down to Petit Champlain, where we checked out boutiques and ate fabulous ice cream from La Petite Cabane à Sucre de Québec.

We walked our aching feet back to the hotel, where we enjoyed a pint of beer on the rooftop terrace, did a bit of work, and relaxed. We finally headed out for a late dinner at Les 3 Garçons on Saint-Jean before turning in.
On Sunday after breakfast and checkout we picked up some coffee and croissants for the road at the best dep ever, Le Marché D'Emma, and began the journey back to Ottawa.

Verdict: We both loved our speedy weekend, and wlll definitely return for a longer visit.
Meet Colleen Kanna, the Ottawa designer creating stylish and sustainable pieces for women who need easy-to-wear clothing
Friday March 25, 2022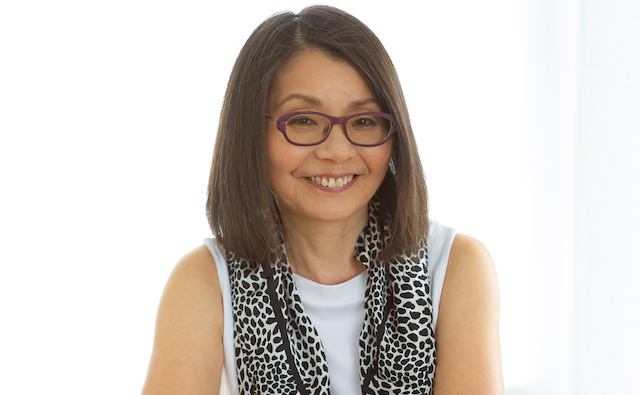 Cokanna, the Ottawa fashion brand that believes comfort can coexist alongside style, has been dressing mature women and cancer survivors for over five years. Cokann's founder, the warm and engaging Colleen Kanna had always been fascinated by fashion, but that interest took a back seat to a career in finance. In 2010 she entered a challenging stage of life when she was diagnosed with Breast Cancer, and she started down the path to recovery. When she was given the all clear at the end of 2011, Kanna started back to work on a part time basis, and she began to explore ways that her original passion could become a business. I recently spoke to Colleen Kanna about her business journey over Zoom.
During her research and planning phase Kanna decided that her collections would have to be easy to wear. In her own recovery she had struggled with tops that required raising her arms, and she knew this was a problem for older people as well. "I think my customer is looking for comfort," she says. " I cater towards an older customer, I think you get to that age, I know I have, where comfort is just as important as style. Like you still want to look nice, and pulled together, but you definitely want to be comfortable doing it."
Kanna knew that there were gaps in her knowledge, and she looked to the fashion community for help. She took courses offered by Fanshawe College and Invest Ottawa, which was also where she was paired with a mentor who advised her to contract out the tasks that she did not have skills to complete herself. "I didn't want to go back to school to learn pattern making, " she says, "I didn't feel that I had the time to do that at my age."
She searched for pattern makers, sewers, and manufacturers to help her build her dream. "I contacted Algonquin College and then Richard Robinson, asking to be put in touch with pattern makers." She also contacted the Toronto Fashion Incubator, from whom she purchased a list of contractors. "I remember I just kept calling people on that list. I narrowed it down to a few, and went to visit them. It was a lot of leg work." Kanna says most of the people she met early on were really helpful.
Each call she made led to another contact, and eventually she collaborated with Twiss and Weber, the Ottawa area designers (who also had a retail outlet on Sussex Drive, which subsequently closed during the pandemic). "I met with them, they were so much fun and so helpful to me. I was so green. I knew nothing! I brought them my drawings and samples of clothes that I liked, and they made me my very first sample."
During her meetings with manufacturers, Kanna discovered that her responsibilities ranged from purchasing her fabric, to creating her own sizing, and in some cases even sourcing (and buying) her own thread. She says it's still a constant learning experience.
Since starting her company Kanna has worked with a number of manufacturers. After using a contractor based in Toronto, Kanna now has her collections produced by The Bobbins Production Studio here in Ottawa.
From the start, Kanna used her experience with Breast Cancer to direct her designs. She created a zip top that someone recovering from cancer could fasten. She also ran workshops with cancer patients, using their feedback to design pieces that were easy to wear and to care for. She was an early adopter of bamboo fabric, which she says is "forgiving and thermal regulating" as well as sustainable.
While Kanna formerly participated in craft markets, the pandemic resulted in an upsurge of online sales for her brand as well as an expansion of her customer base. The digital world has also created the opportunity for Kanna transition her coffee and shopping events, which she had previously held in her home studio, to online Zoom experiences. Community is just as important to Kanna as her fashion line; in her Online Coffee Shops her customers and a wider group of women come together for conversation and to learn about a variety of topics.
It's this love of community and a passion for the plight of aging Canadians that fuel Kanna's plans for the future. She envisions a retail, meeting, and living space where older people can live and shop, and be in their own community.
"You know, our system is so broken in that way and for sure the pandemic really brought that to light. It just breaks my heart when i hear about people in long term care, cut off from their families, not getting the proper care. Something has to change, and you know, government, I don't see anything happening any time soon that would make a difference. So I think as communities, we have to think of our own solutions and that's one of the things that I would like to do in getting the space.
"That could be a space with a few living spaces for myself, for my sister, and other people that are older and we create our own little community. We look out for each other. And if a pandemic happened we would be our own bubble."
If anyone can bring a new vision for aging communities to life, it's the passionate and determined Colleen Kanna.
Martha Gall
The Best of Ottawa Award Winners and Runners-up 2021
Monday November 22, 2021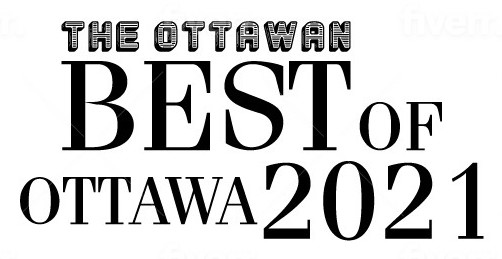 Our goal with the BEST OF OTTAWA 2021 AWARDS is to highlight what is great about Ottawa, to champion those shops, businesses, and services who are fighting the downturn, and to introduce everyone who lives here to something new.

This is our second year of conducting the BEST OF OTTAWA AWARDS. There were THOUSANDS of responses. We're confident that this is a pretty good representation of what Ottawa thinks.

So, these people, businesses, and services were awarded the BEST OF OTTAWA 2021. All the winners and runners-up will be receiving a frame-able certificate. To everyone who nominated and voted, thank you!
Best cheap deal/meal under $10
Runners-up:
Best place to splurge
Runners-up
Best wine list
Runners-up
Best Burger
THE WORKS CRAFT BURGERS AND BEER
Runners-up
Best Pizza
Runners-up:
Best Shawarma
Runners-up:
Best Fish & Chips
PELICAN SEAFOOD MARKET & GRILL

Runners-up:
Best Taco
Runners-up:
Best Poutine
Runners-up:
Best Food Truck
Runners-up:
Best Coffee
Runners-up:
Best Local Coffee Roasters
Runners-up:
Best Bagel
Runners-up:
Best Ice-Cream/Gelato
Runners-up:
Best Pub/Bar
Runners-up:
Best Local Brewery
Runners-up:
Beau's All Natural Brewing Company
Best Local Beer
Runners-up:
Best Local Distillery
Runners-up:
Best African Restaurant
Runners-up:
Best Caribbean Restaurant
Runners-up:
Best Chinese Restaurant
Runners-up:
Best French Restaurant
Runners-up:
Best Greek Restaurant
Runners- up:
Best Indian Restaurant
Runners-up:
Best Italian Restaurant
Runners-up:
Best Japanese Restaurant
Runners-up:
Best Middle Eastern Restaurant
Runners-up:
Best Thai Restaurant
Runners-up:
Best Vegetarian/Vegan Restaurant
Runners-up:
Best Patio
Runners-up:
Best New Business that has Opened in the Past 12 Months
Runners-Up:
Best Art Supply Store
Runner up:
Best Vintage Decor Store
Runners-up:
Big Vintage (Almonte)
Best Vintage Clothing Store
Runners-up:
Best Furniture/Decor Store
Runners-up:
Best Grocery Store
Runners-up:
Best Organic Food Store
Runners-up:
Best Farmer's Market
Runners-up:
Best Piercing/Tattoo Shop
Runners-up:
Best Real Estate Agent
LANA BURNLEY, SOLID ROCK REALTY

Runners-up
Best Women's Apparel Store
Runner up:
Best Men's Apparel Store
Runners-up:
Best Record/CD Store
We should probably rename the category to vinyl store next year. Just saying.
Runners-up:
Best Bookstore
Runners-up:
Best Activisit/Activist Group
BLACK LIVES MATTERS
Runners-up:
Best Activist Campaign
EVERY CHILD MATTERS
Runners-up:
Black Lives Matter
15 Minute Neighbourhoods
Best Community Hero
HEXENNACH – Reddit Ottawa user who maintains the site's COVID info

Runners-up:
Chef Ric Watson – Chef Ric's is a social enterprise, providing healthy food, affordable catering, and most importantly, the same transformative job training program for men and women looking to change their lives.
Mx Amanda Jetté Knox – award-winning writer, human rights advocate and public speaker
Best City Councillor
CATHERINE MCKENNEY
Runners-up:
Jeff Leiper
Shawn Menard
Best Member of Provincial Parliament
JOEL HARDEN
Runners-up:
Stephen Blais
John Fraser
Best Member of Parliament
CATHERINE MCKENNA
Runners-up:
Yasir Naqvi
Pierre Poilievre
Best Neighbourhood
ORLÉANS
Runners-up:
Centretown
Hintonburg
Best Place to Bring an Out of Towner
BYWARD MARKET
Runners-up:
Gatineau Hills
Parliament Hill
Best Local Podcast
Runnes-up:
Best Local Instagram - Personality/Content Creator
Runners-up:
Best Local Instagram - Photography
Runners-up:
Best Local Instagram - Pets
Runners-up:
Best Local TikTok
Runners-up:
Best Ottawa Blogger
Runners-up:
Best Local Twitter
Runners-up
Best Local YouTube
Runners-up
Best Local Twitch
Runner-up
Best Local Website
Runners-up:
Best Local TV Personality
ADRIAN HAREWOOD, CBC Ottawa
Runners-up:
Matt Skube CTV Ottawa
Stefan Keyes, CTV Ottawa

Best Local Radio Personality
JENNI HOT 89.9
Runnes-up:
Stuntman Stu, MOVE 100
Alan Neal, CBC All In A Day
Best Local TV Station
CBC Ottawa
Runners-up:
CTV Ottawa
TVA Gatineau
Best Campus/Community Radio Station
CKCU FM 93.1 Carleton University
Runners-up:
CHUO 89.1 University of Ottawa
CKDJ 107.9 Algonquin College

Best Radio Station
CBC RADIO ONE 91.5
Runners-up:
Hot 89.9
Live 88.5
Best Local Band
ELIJAH WOODS X JAMIE FINE

Runners-up:
MonkeyJunk
Twin Flames
Best Musician
GRAVEN
Runners-Up:
Night Lovell
Tiagz
Best Local Museum
CANADIAN MUSEUM OF NATURE
Runners-up:
Canada Science and Technology Museum
Canadian Museum of History
Best Local Art Gallery
NATIONAL GALLERY OF CANADA
Runners-up:
Ottawa Art Gallery
Orange Art Gallery
Mother's Day in Ottawa Gift Guide
Tuesday May 4, 2021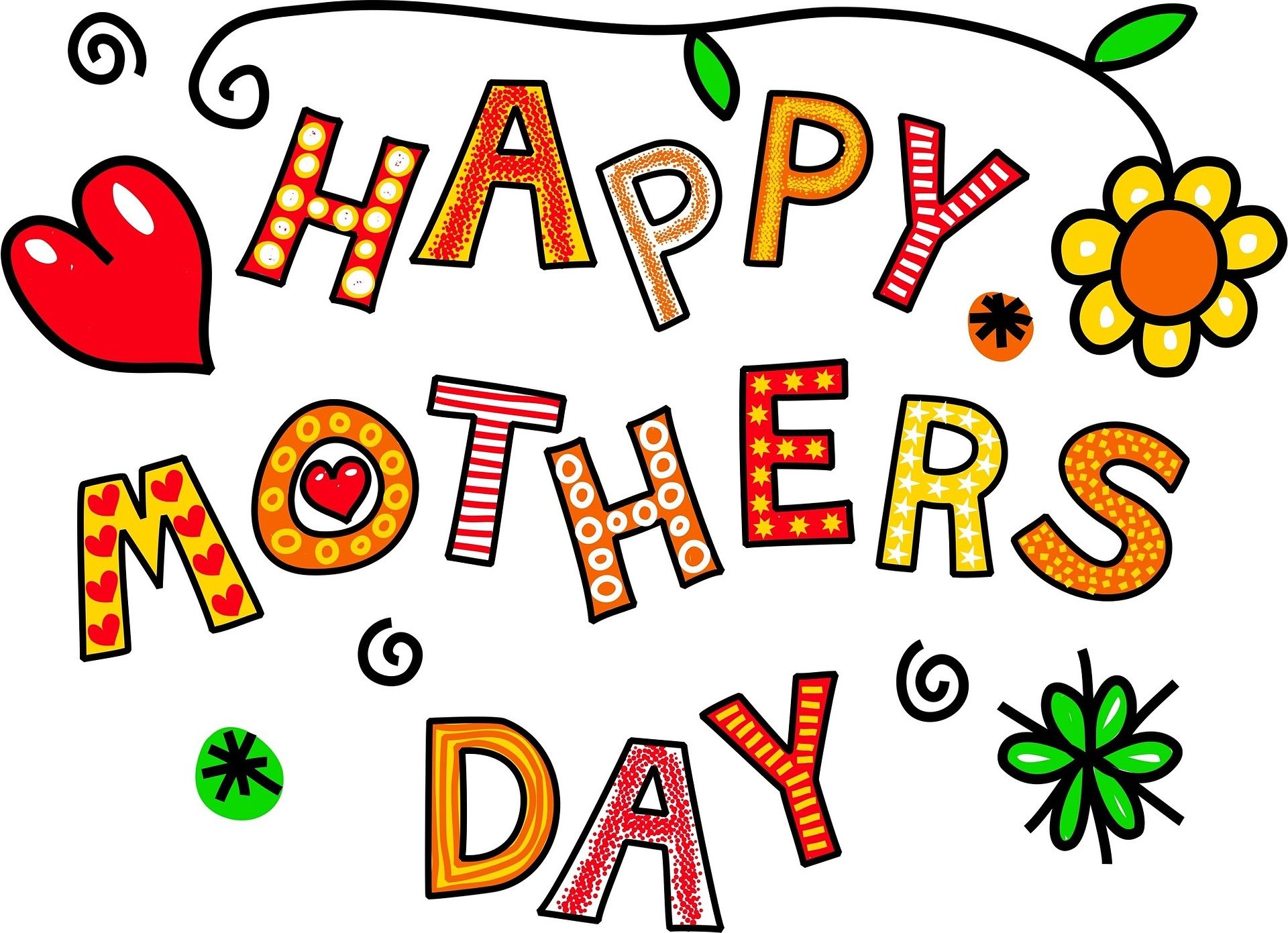 Your mom is probably as Covid-fatigued as the rest of us, and will be thrilled to accept delivery of spring flowers, but there are lots of other ways to celebrate your mother. Just turn to some of Ottawa's incredible small businesses for inspiration.
▪️ WHOA. Zola is offering its Mother's Day "Motherlode", an incredible Heat + Eat Blunch AND Heat + Eat Dinner for $99 per person. It sold out last year and it's easy to see why: Blunch includes waffles and your choice of quiche, while the dinner portion starts with lobster bisque and salad and your choice of main with sides. Dessert is also included, but you'll have to choose between chocolate mousse or New York cheesecake. Each order includes a carnation flower, a magazine, dinner rolls, and a Himalayan salt bar.
▪️ The Campy Home Mother's Day Gift Boxes are packed with goodies by Ottawa makers. Each box includes a up to seven products like chocolate, a Campy Home candle, coffee, and macarons. $85 - $115.
▪️ The Ottawa Handmade Mother's Day market launches on April 16, and will be a perfect launching point to hunt for jewellery, art, textiles, and greeting cards.
▪️ Drop off a nice bottle of wine on mom's porch. La Bottega has received a shipment of whites and red from Tenute Orestiadi, from Sicily. La Bottega recommends sipping on a sunny afternoon, whilst grazing on olives and arancini. $25 per bottle.
▪️ It's a fact that all mothers appreciate their offspring's art attempts, no matter how unpolished. If you plan to give your mother a piece of your own handiwork, Wallack's offers very fast delivery including same day (within 30km of a store).
▪️ If Mom's into jewellery, buy her some Canadian-made earrings from Ebb & Flo boutique (234 Dalhousie Street, Ottawa). Other homegrown products include the Ebb & Flo Sheer Illuminating Lotion, which promises to "replace youthful glow" ($29.99) and a collection of cosmetics and skincare products. Shipping is free on orders over $75.
▪️ Visit the Nat in the Hat Etsy store for stylish accessories that are made right here in Ottawa. The fanny packs, backpacks, hobo slouch bags, and shoulder bags are made with faux leather wax canvas, and fabric. We love the Shoulder Sling Bag, a crossbody bag that's available in a variety of colours and patterns. $168
▪️ Maker House has stocked up with local Gift Boxes to delight the mother in your life whether she's a foodie, a self-care enthusiast (or needs encouragement to be one), a gardener, or a chocoholic. The boxes are filled with items by Canadian makers, and include a hand written card, all for $49.95. You'll also find a load of individual items for Mom at the site.
▪️ Square Lemon is holding a Mother's Day Online Market from May 6 at 6:00pm too May 8 at 4:00pm. They're accepting vendor applications now.
Ottawa's many florists don't just offer bouquets for Mother's Day. You can also purchase long lasting plants and accessories for indoor plants and gardens that your Mom can use all year, and when she does, she'll think of you.
▪️ Flowers Talk Tivoli has a range of sweet plant accessories for the Mother who lavishes love on her plants. The Colourful Glass Plant Mister in clear, amber, purple, or green is stylish and useful. $17.50. The Plant RX Plant Fortifier Spray is used just once on indoor plants to give them a year of good health. $25.
▪️ Check out the New Arrivals page at Flower to the People for cool pots, planters, and plants. We love the Eye Pot, which comes in a range of sizes. From $20.
▪️ Bella Rosa is having a Mother's Day Sale until May 7. Use the code MOTHERSDAY15 to receive 15% off all floral arrangements.
▪️ If you're only sending Mom a card, make it one that's full of wildflower seeds that she can plant where she likes. The Good Card from Guelph, Ontario makes floral greeting cards that, once enjoyed, can be planted indoors or in the ground where they will release the Birds' Eye, Clarkia, Black Eyed Susan, Catchfly, Snapdragon, and Sweet Alyssum seeds contained within the biodegradable paper.
▪️ Scrim's Florist is now carrying Earth Medicine natural fertilizer, which contains dairy manure and straw. Available in a sample size for $16 and a growler for $40, the fertilizer has no shelf life, so this is gift that will last forever. Scrim's also carries pet friendly plants like the Pilea Peperomioides or Chinese Money plant, for $25.
▪️ Capital Florist has now opened its Mother's Day presale, and the bouquets are available in your choice of neutrals or "Mother's Day Mix", which features light shades of blues, yellows, purples, and pinks. Capital Florist is also closing curb-side pickup for now, and are only offering delivery.
▪️ Belfiore Flowers has some glorious bouquets, but they also offer a package of loose flowers, accents and greenery that allow you to make an arrangement yourself. Ranging in price from $50 to $200, this bouquet will truly be one of a kind.
▪️ Maison Anthea warns that the shop will likely sell out of Mother's Daybouquets before the cut off date of May 6th. This year's collection ranges from simple and gorgeous tulips ($49.95) to a large table arrangement for $150. $3 from each order will be donated to Parkinson's Canada.
▪️ Bar from Afar has put together a Mother's Day Kit of eight Mom-friendly cocktails. Each kit contains ingredients for Flowers for Mom (vodka based with elderflower), Breakfast in Bed (sparkling rosé with pink lemonade), Maw Tai (rum and overproof rum), and Breakfast Martini (gin based, of course!), all for $130. Available in Ottawa and Toronto on May 7 and 8. Finish off this loving gift idea with a set of vintage glasses.

▪️ Dunrobin Distilleries has combined two of our favourite things in its Mother's Day Gin & Chocolate Gift Box ($99.95), containing two bottles of Dunrobin Distilleries Gin, including the recently launched lavender coloured Earl Grey Gin. Also included are two bottles of house brand bitters and hot chocolate bombs from Neighbourhood Delights. Cocktail recipe cards will also be tucked in the package, so your Mom can get creative. $99.95 - $144.95.
▪️ The Cupcake Lounge's incredible Mother's Day lineup with keep you busy making decisions. Will you buy macarons or cupcakes? Or both? Or maybe a Mango Pecan Meringue Cake (from $55)? Or perhaps you'll deliver a sweet and savoury breakfast of scones, croissants, and conchas ($39). These guys don't make it easy.
▪️ If she loves ice cream (or the plant-based version) you can request that your Mother's treat from Merry Dairy be delivered via their adorable Ice Cream Truck (for a charge of $35). Not only with the truck arrive with your order of cake, pint of ice cream, and/or ice cream sandwiches, but it will stay for a socially distanced visit of up to 10 minutes. Nice.
▪️ The Three Tarts Mother's Day Menu has all sorts of goodies on offer, including spring decorated shortbread cookies (6 for $12) tartlets (4 for $15), and cakelets ($5-$8). There's also a selection of treat boxes from $14 to $18. All are available Friday May 7 to Sunday May 9.
▪️ The best self-care moments include a nice cup of tea. The tea experts at tease have created the lovely Self Care Bundle including tea, a tumbler, and a bath soak from Bathorium. $79.
▪️ Beyond the Pale Beer has come together with Lot 7 furniture and homewares and Roam Flora to produce a limited availability gift that's sure to please Mom. The Mother's Day Bundle with flowers, vase, and a four pack of BTP beers is available in two sizes. $40 - $75.
▪️ The Love Tea and Chocolate Pairing Box takes tea and chocolate very seriously. Each box contains three bars of chocolate from Canadian chocolatiers, plus a series of teas curated by Ottawa's World of Tea. $39.50 plus shipping (or choose curb side pickup).
▪️ Buyers and Cellars (327 Somerset)'s Mother's Day offering is a nice bottle of Miss Valentine Rosé accompanied by three small desserts from Koala Baking ($60), available for pickup after 10:00am on Sunday May 9.
▪️ The Artery Community Roasters has three gift boxes for Mother's Day. If your Mom loves coffee, she'll appreciate one of these. Each box contains coffee, fair trade chocolate, mugs, and a personalized greeting card. Every purchase supports people with disabilities and helps coffee farmers get paid fair wages.
▪️ We think the wow factor colour of the Prince of Orange Philodendron ($99) at Phulero Dola will please the plant loving Mom, and since it won't die within the month like a bouquet, it will remind her of you all year round.
Paper Hearts Paperie makes gorgeous cards and everlasting bouquets. The set of four incredibly realistic paper daffodils has wire in the stems so you can arrange as you wish. $60.
▪️ There is a certain 88 year old mom and grandmother of our acquaintance who would absolutely rock the "Cool Mom" tee from Ottawa lifestyle brand Shop Oolong the Way. We think your mom - or you - would love it too. DM to order.
▪️ Another cool tee, the Hipster Giraffe from HeapsHandworks is slim fitting with hand drawn artwork that is manually screen printed in an Ottawa studio. It's 20% off right now.
▪️ Maker House has Mother's Day gift boxes starting at $49.95, to please Mom no matter what her passions. Gardening, Cooking, Teaching, Chocolate Lover, I could go on. Or you can pull together a custom gift box from the amazing range of Canadian-produced food and homewares on the site.
▪️ Check out the customizable Mother's Day bundles at the Ottawa Artisans store. Ranging in price from $35 to $65, these bundles offer well considered food and self-care items from local producers, and will make Mom feel mighty special indeed.
​​​​​​​▪️ Carmelito Café's Mother's Day Elegant Tea is $34.95 + tax and includes mini sandwiches, pastries, and scones, a teabag, a tea cup and saucer, and a rose. Cut off for orders is tonight (Thursday) at 6:00pm. Order by calling 613-234-5336

​​​​​​​▪️ The Whalesbone on Kent has a Mother's Day Gift Box that will feed you all day. Full of goodies like bagel and lox kit, smoked scallop quiche, salad, bacon, a Mimosa kit, a french toast kit, a pack of ground coffee for a French press, and even a deep dish cake…this is serious Mother's Day celebration in a box. $150. Email [email protected] or call 613-231-3474 to order, and pick up at 504a Kent St. on the 7th or 8th.
​​​​​​​▪️ Jojo's Creameria has - count 'em - four kits of make at home fun, to help Moms celebrate their day. Choose the Sundae, cookie, or donut kits for $40 or the Pizza DIY kit for $60.
▪️ ​​​​​​​Mint & Honey in Kanata has a plethora of tea, fashion accessories, homewares, and sweets for Mom. The Earl Grey and Matcha Latte bonbons are a collab with Ottawa's Anna Stubbe chocolatiers, and can be enjoyed on their own ($16.95) or with teas like Matcha Sora.
The Best Street Food in Ottawa
Sunday April 4, 2021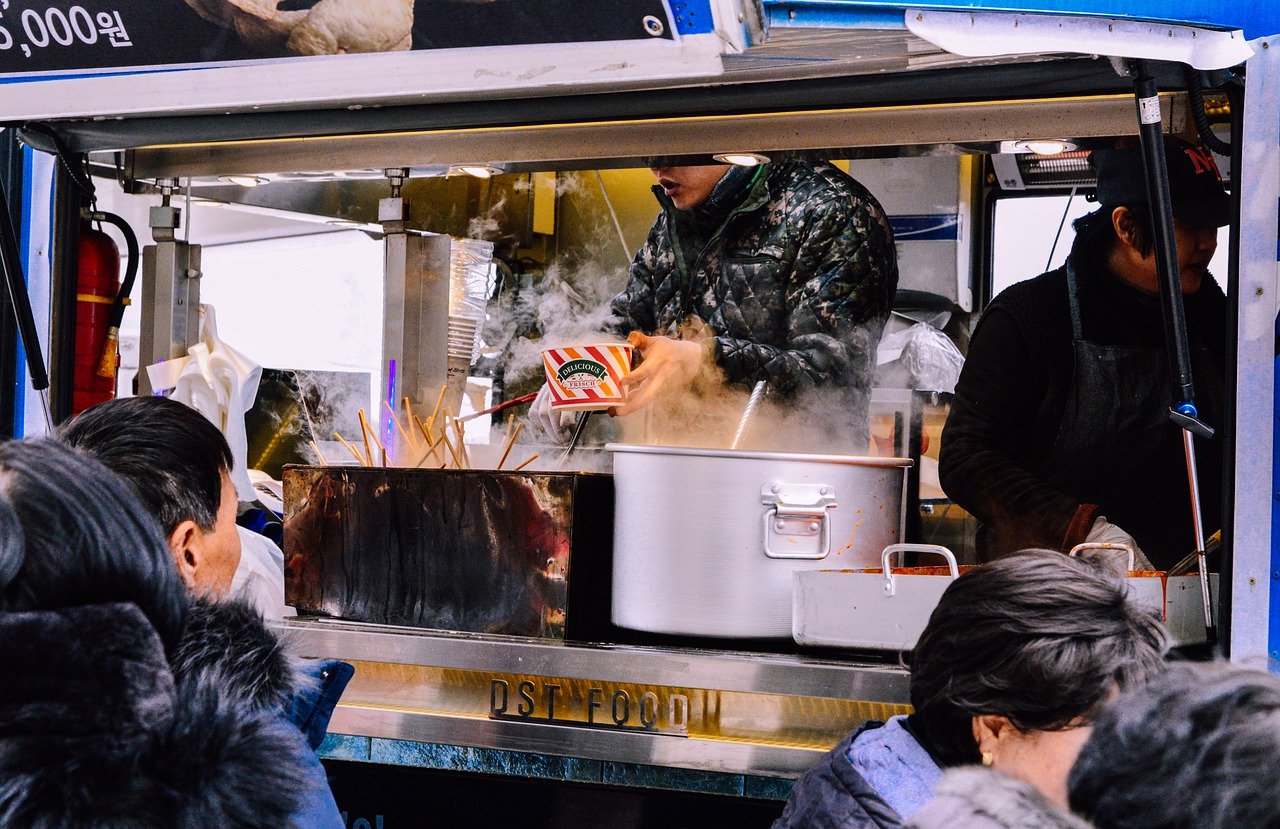 Saturday took us to Bells Corners, and on the return trip, a visit to our Best Of Ottawa Awards street food truck runner-up Ad Mare.
Ad Mare reopened for the season on Friday in the parking lot of Kichesippi Beer Co. Kichesippi has a great patio and in normal times, it would be packed and Ad Mare's line-up long. But as the Province has banned patio service for the next four weeks, there was no waiting.
We ordered the Shrimp Po' Boy. What we received was a demi-baguette, overflowing with huge deep fried shrimp, on a lettuce, tomato, and pickle base.
Heaven.
We chose the chips as an accompaniment: thinly sliced potatoes, beets, and sweet potatoes crisped on the spot.
Absolute heaven.
So take this as your notice that Street Food Truck season has opened. We've listed some of the best here.
▪️ Everyone has their favourite chip truck, and Wes' is ours. Wes's Chips food truck is now open for the season, from 10-7 daily at 198 Madawaska Blvd in Arnprior, Ontario. Best. Chips. Ever.
▪️ Jerk on Wheels (1533 Merivale Road, open 12:00pm to 6:00pm) has big news: They're opening a second truck! Details are hush-hush at the moment, but if you share their announcement on Instagram you'll have a chance to win a large Jerk poutine.
▪️ Falafael on Wheels is open Monday to Friday 11:30am to 6:30pm and on Saturday from 11:30am to 4:30pm. 1649 Montreal Road (at Blair). Look for fresh falafels in a sandwich, on a salad, or as a snack, plus salads and fries. Available via Doordash and Uber Eats if you can't get to the truck.
▪️ Visit the Nepean location of Raon for Bimbimbaps (Korean rice bowls with meat or tofu), Korean fried chicken, and spicy nuts. 6-65 Bentley Avenue from Monday to Friday 11:00am - 2:00pm and 4:00pm -7:30pm, and Saturdays from 12:00pm to 7:30pm. They're also at the Ottawa Farmers' Market at Lansdowne Park on Sundays from 10:00am to 3:00pm.
▪️ BBQ fans mark your calendars for this Friday, April 9 for the 2021 opening of Smokin' R & Rs in Stittsville. The menu will satisfy lovers of burgers, pulled pork, buffalo chicken, veggie wraps, salmon, and bison. It's all there, including chips. 1441 Stittsville Main Street, 11:00am to 7:30pm daily.
▪️ Big D's Dog House and Poutine is now open to satisfy your hot dog and poutine cravings. Open daily from 11:00am to 7:00pm at Hazeldean and Sweetnam Drive.
▪️ If you didn't get enough Easter sweets there's an adorable menu of mini donuts on offer at Le Donut Stop, 3910 Innes Road in Orléans (in the Canadian Tire parking lot). Open today until 5:00pm, they offer Cinnamon Sugar, Powdered Sugar, or Plain in batches of 12, 24, or 50.
▪️ When you can't get to a campfire, you'll find a wide selection of roasted marshmallow treats at the La Guimauverie truck. Right now they're based at the Navan market on weekends but watch their social media for news about a new location in Orléans, coming very soon.