The Best of Ottawa Award Winners and Runners-up 2020
Monday October 5, 2020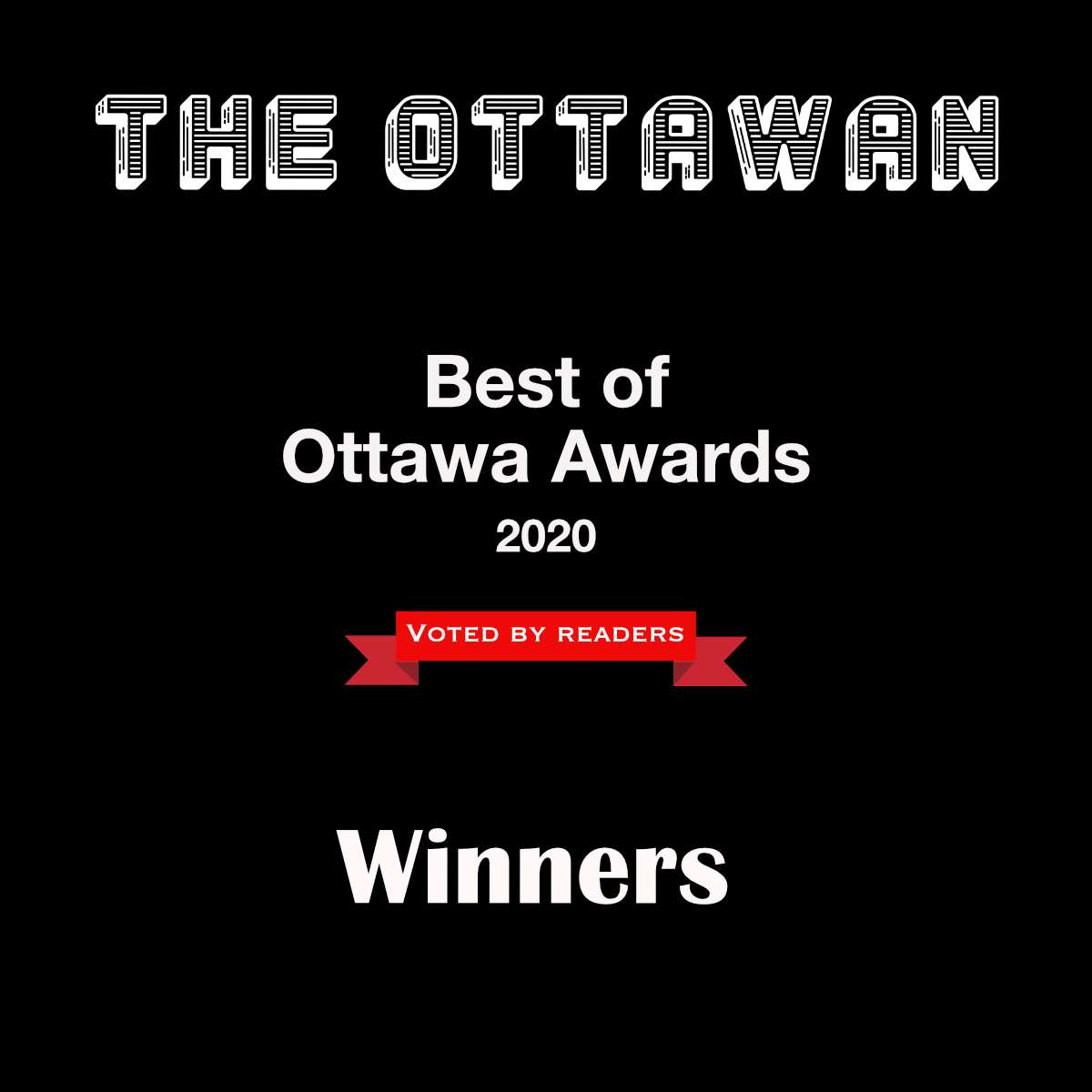 The COVID response has hit Ottawa's shops and restaurants hard. Many have closed, many others are clinging on by their fingertips.
Our goal with the BEST OF OTTAWA 2020 AWARDS is to highlight what is great about Ottawa, to champion those shops, businesses, and services who are fighting the downturn, and to introduce everyone who lives here to something new.  
We're stunned by the response to our first ever awards. There were THOUSANDS of responses. We're confident that this is a pretty good representation of what Ottawa thinks.
So, these people, businesses, and services were awarded the BEST OF OTTAWA 2020. All the winners and runners-up will be receiving a frame-able certificate. To everyone who nominated and voted, thank you for your service.
Best cheap deal/meal under $10
DI RIENZO's
Runner-up: Ahora Mexican Restaurant
Best place to splurge
Runner-up: Riviera Ottawa
Best wine list
Runner-up: The Whalesbone
Best Burger
Runner-up:  The Worx Craft Burgers and Beer
Best Pizza
Runner-up: Farinella
Best Shawarma
Runner-up: Shawarma King
Best Taco
Runner-up: Ola Cocina Taqueria
Best Poutine
Runner-up: Pure Kitchen
Best Food Truck
Runner-up: Ad Mare Seafood Truck
Best Coffee
Runner-up: Equator Coffee
Best Bagel
Runner-up: The Bagel Run
Best African Restaurant
Runner-up: BBQ Golden Grill
Best Caribbean Restaurant
Runner up: Island Grill
Best Chinese Restaurant
Runner-up: Gongfu Bao
Best French Restaurant
Runner up: Le moulin de provence
Best Greek Restaurant
Runner up:  Greek On Wheels
Best Indian Restaurant
Runner up: East India Company
Best Italian Restaurant
Runner up: Trattoria Caffé Italia
Best Japanese Restaurant
Runner up:  Genji
Best Middle Eastern Restaurant
Runner up: 3 Brothers Shawarma
Best Thai Restaurant
Runner up: Khao Thai
Best Vegetarian/Vegan Restaurant
Runner up: The Green Door
Best Patio
Runner up: Tavern on the Falls
Best Ice-Cream/Gelato
Runner up: Moo Shu Ice Cream
Best Local Brewery
Runner up: Dominion City Brewing
Best Local Distillery
Runner up: North of 7 Distillery
Best Local Beer
Runner up: Beyond The Pale Pink Fuzz 
Best Art Supply Store
Runner up: Deserres
Best Vintage Clothing Store
Runner up: Ragtime
Best Vintage Furniture Store
Runner up: WISEMAN + CROMWELL
Best Furniture/Decor Store
Runner up: Zone
Best Grocery Store
Runner up: La Bottega
Best Organic Food Store
Runner up: Farm Boy
Best Farmer's Market
Runner up: ByWard Market
Best Piercing/Tattoo Shop
Runner up: Living Colour
Best Real Estate Agent
MARNIE BENNETT, Bennett Property Shop
Runner up: Tara Shields, Royal LePage Team
Best Women's Apparel Store
Runner up: Giant Tiger
Best Men's Apparel Store
Runner up: Giant Tiger
Best Bookstore
Runner up: Octopus Books
Best Activisit/Activist Group
BLACK LIVES MATTERS
Runner up: Earthub
Best Activist Campaign
BLACK LIVES MATTER
Runner up: Save The Bees
Best Community Hero
JOE THOTTUNGAL, restauranteur provinding food for homeless families
Runner up: Gwen Madiba, campaigner for women & the Black community in Ottawa 
Best City Councillor
CATHERINE MCKENNEY
Runner up:  Mathieu Fleury
Best Member of Provincial Parliament
JOEL HARDEN
Runner up: Yasir Naqvi
Best Member of Parliament
CATHERINE MCKENNA
Runner up: Peter Julian
Best Neighbourhood
CENTRETOWN
Runner up: Hintonburg
Best Place to Bring an Out of Towner
BYWARD MARKET
Runner up: Gatineau Hills
Best Local Podcast
Runner up: The Interview Dudes
Best Local Instagram - Personality/Content Creator
Runner up: @LuckyLittleQueer
Best Local Instagram - Photography
Tie: Runner up: Brittany Lee Smyth
Tie: Runner up: Cory Conty
Best Local Instagram - Pets
Runner up: @theguiltypoodle
Best Locak TikTok
Runner up: @gghamar
Best Ottawa Blogger
Runner up: Amy Karlin, Amy In 613
Best Local Website
Runner up: Reddit Ottawa
Best Local TV Personality
ADRIAN HAREWOOD, CBC
Runner up: Matt Skube CTV Ottawa
Best Local Radio Personality
MAULER, RUSH, AND JENNI HOT 89.9
Runner up: Alan Neal, CBC All In A Day
Best Local TV Station
CBC
Runner up: CTV Ottawa
Best Campus/Community Radio Station
CKCU FM 93.1
Runner up: CHUO 89.1
Best Radio Station 
CBC RADIO ONE 91.5
Runner up:  Hot 89.9
Best Local Twitter
Runner up: @YOW_weather
Best Local YouTube
Runner up: Elle Mills
Best Local Band
Runner up: Hollerado
Best Musician
Runner Up: Lucky Ron
Ottawa brewery is resurrecting long-lost alcoholic root beer – Cronk
Thursday July 30, 2020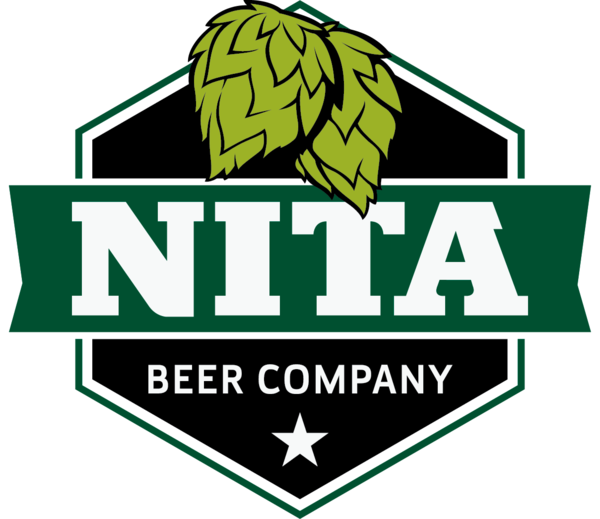 Buy Cronk. Cronk is good. Cronk is the drink.
Last month, Paul Fairie, an researched at the University of Calgary, was looking at an 1883 copy of the Calgary Herald, and noticed something weird.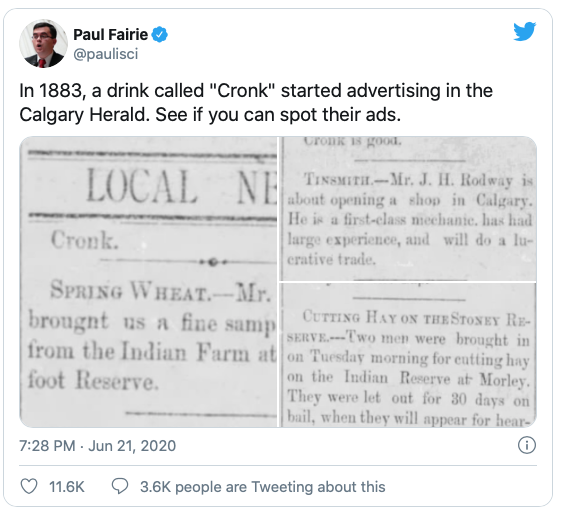 Cronk was interspersed between paragraphs all through the paper. Why? Facinated Twitter users took up the task.
Dating back to the 1840s, Cronk was the invention of Warren Cronk of Syracuse, New York, who invented the drink as a healthful tonic. Only slightly alcoholic, it was a mix of sasparilla, sassafras, and hops.
Over the next few decades, the recipe was franchised out to brewers across the US and Canada, including Calgary. But by the end of the 19th century, Cronk was gone and forgotten.
Until Paul Fairie's Tweet. Which inspired Cold Garden brewery of Calgary to make the first batch of Cronk in perhaps 100 years.
And that's why it is fabulous that Nita Brewing in Nepean is brewing it in Ottawa.
In a phone call with the ottawan, Nita Brewing said that the first batch should be ready in "two to three weeks." 
"We've never done this before so we'll see what happens."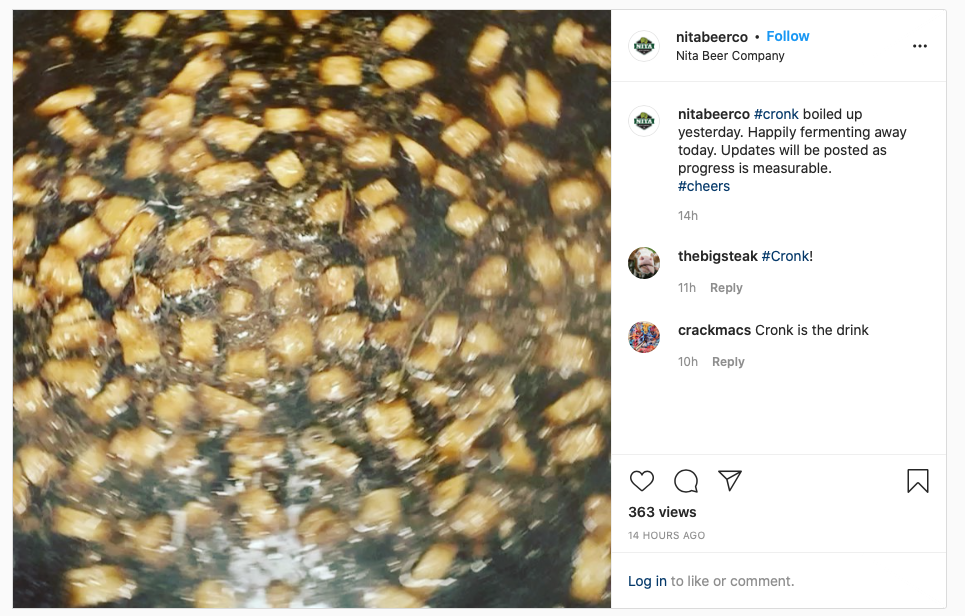 the ottawan will keep you updated as this unfolds.
DON'T FORGET: The Last Ottawa-Gatineau Beer Map That You Will Ever Need 
Ontario bill threatens renters in favour of landlords, Ottawa advocates say
An Ottawan Original
Thursday July 2, 2020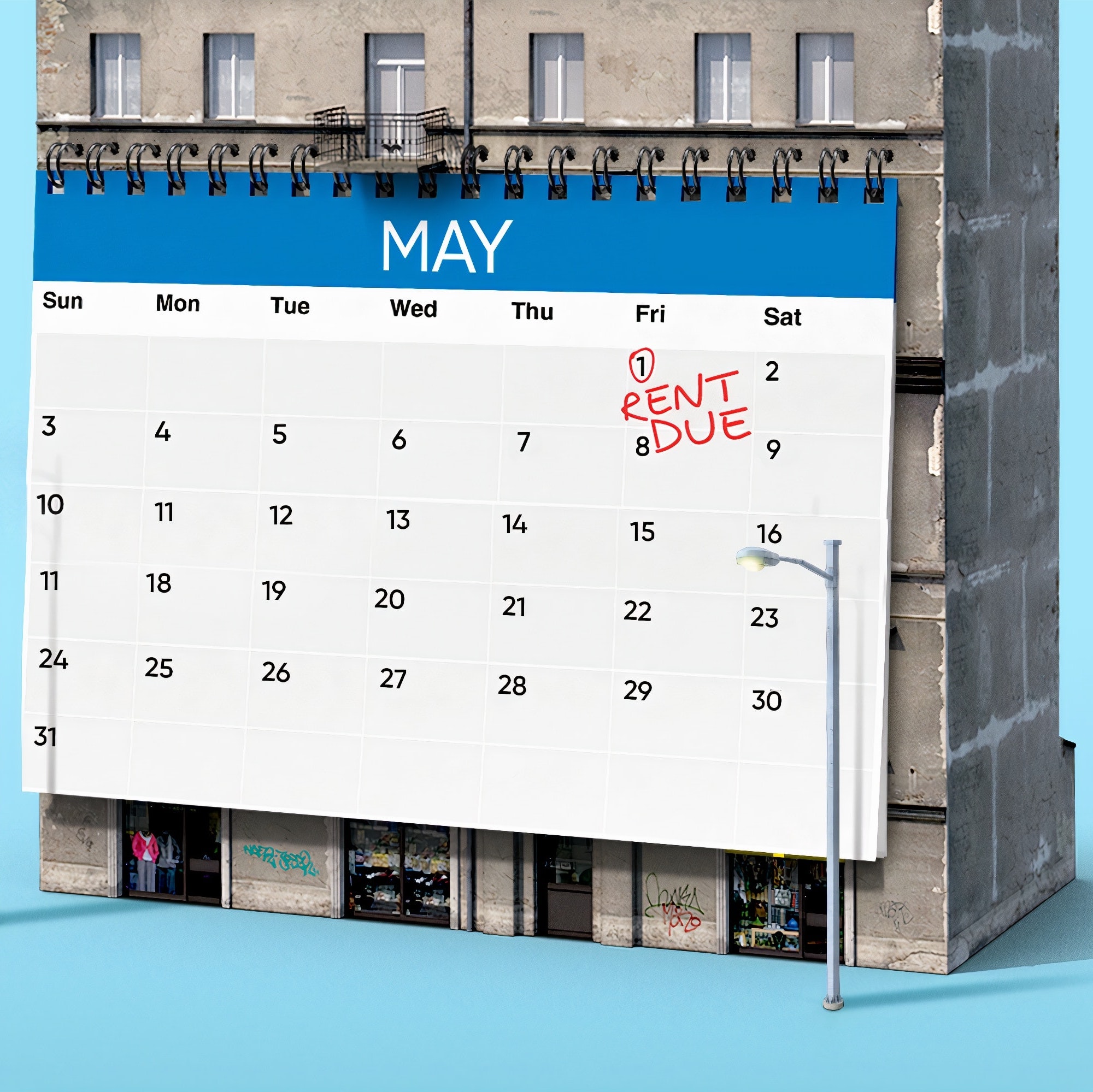 ▪️ Over one-fifth of MPPs list report receiving rental income, it's one-quarter if spouses are counted
▪️ No moritorium on rent owned due to COVID-19
▪️ Landlords would no longer need to go to Landlord Tenant Board to evict
 
By Jillian Piper
On March 12, Ontario parliament held the first reading of Bill 184, named the "Protecting Tenants and Strengthening Community Housing Act," which the Ford administration said will protect the rights of tenants and landlords.
However, Ottawa advocates say the new bill decreases renters' rights amid the pandemic — at a time when they need financial support the most.
One of the most controversial points of the new bill is the ability of landlords to give an eviction notice as soon as a rental payment is missed, instead of having to go to the Landlord Tenant Board and organizing a new payment plan with the tenant.
In May, the bill had its second reading in parliament and is currently being considered by the standing committee on social policy.
Controversy surrounding Bill 184
Herongate Tenant Coalition organizer Josh Hawley said he isn't surprised at the bill's timing.
"They pushed it through the pandemic on purpose," he said.
He added while the housing crisis in Ottawa has been around for years — council even declared a housing and homelessness crisis earlier this year — Bill 184 is pushing pre-existing cracks in the system.
"The crisis was clearly exacerbated by Ford, who as soon as he got into power, he cut funding to the tribunals," Hawley said.
Hawley referred to when Doug Ford amalgamated the nearly 20 tribunals into one entity known as Tribunals Ontario, a process which began back in 2018.
"What ended up happening was he didn't hire new adjudicators, so the Landlord Tenant Board is really starved of adjudicators right now, which increased the backlog," Hawley explained.
Hawley added by cutting the tribunals, he thinks Ford was "setting the stage" to justify passing Bill 184, which he described as "an eviction speed-up bill."
Passing a bill that would allow landlords to evict tenants as soon as a payment is late, rather than being able to agree on a new repayment plan in the Landlord Tenant Board, is especially problematic given the job insecurity brought on by COVID-19, Hawley said.
In June, Canada's unemployment rate hit a record 13.7 per cent.
While the government of Ontario acknowledges paying rent will be more difficult due to COVID-19, the government's website states all tenants who can pay their rent must do so to the best of their abilities.
"Landlords are entitled to collect compensation from a tenant for each day that an eviction order is not enforced. However, tenants who are asked to self-isolate or who can't work may have difficulty paying their rent," the website reads.
"We encourage landlords and tenants to work together during this difficult time to establish fair arrangements to keep tenants in their homes," the statement continues.
In late April, Ford said residential rent relief would soon be implemented. Currently, there is no COVID-19 residential rent-specific relief program for Canadians, but the federal and Ontario government did provide a commercial rent assistance program for small businesses affected by COVID-19 back in May.
Advocates say time to implement support for renters is running out.
COVID-19 financial strains
Mavis Finnamore, long-time tenant leader of housing advocacy group Association of Community Organizations for Reform (ACORN)'s Ottawa chapter, said while COVID-19 relief programs have been generous, residential tenants are being left in the dust.
"[The government has] been all over the place with donating money left, right and center, and it's actually kind of amazing to me that they've somehow overlooked residential tenants," she said.
"I used to think of the government as being something that worked for the people to help the people, and I'm really not seeing this now," she added.
Finnamore said vulnerable communities were hit hardest by the pandemic, which emphasizes the need for rental support during COVID-19.
"We already have a housing problem and then to have COVID-19 and all these restrictions dumped on it made things very, very uncomfortable for people at the lower end as far as rent goes," she said.
Although the City of Ottawa declared a housing and homelessness crisis earlier this year, Finnamore said it seems to be swept under the rug.
"Somehow, [government officials] have developed amnesia," she said. "It seems inevitable that we're going to be seeing another bunch of people out homeless, but [the government is] kind of contributing to the problem."
Finnamore said ACORN members have collectively sent thousands of emails and called politicians hundreds of times to advocate on behalf of housing supports for renters amid the pandemic.
The group hopes to see the government provide an emergency no-interest loan that those struggling to pay rent — whether or not they receive the $2,000 a month Canada Emergency Response Benefit (CERB) or unemployment insurance— could easily apply for in a time of need, as well as freezing rent increases and ensuring vacancy control to avoid higher rates.
Finnamore also said the most important change the group is advocating for is a moratorium on evictions caused by inability to pay rent.
"We're not hearing from our governments on these very vulnerable marginal income people. They're not helping them out," she said. "So the louder we can amplify our message through whatever media or system we can do, the better."
Finnamore added she has also been talking more directly with councillors to see if they can exert pressure on other councillors to enact support.
'Skyrocketing' housing market
Somerset Ward city councillor Catherine McKenney said the government has known the necessary steps to take since the national housing strategy was released in 2017, but no concrete measures have been implemented.
"The national housing strategy calls for two things, it calls for us to end or reduce chronic homelessness by 50 per cent and to reduce core housing needs, so helping people who are paying far too much for their housing," McKenney, council's liaison on housing and homelessness, said.
McKenney added housing prices in Ottawa have recently "skyrocketed."
"Some people are paying well over 30 per cent of their income just on housing," they said. "People are falling into homelessness as a result."
Even rent forgiveness would not be enough to undo the damage already done, McKenney added.
"We need to give people rent supplements or housing allowances until they're able to gain their own ability to pay for housing and we need to build more housing," they said. "We have to start building housing that is supportive housing for people coming out of shelter."
MPP Joel Harden agreed that affordable housing is a necessity for Ottawa neighbourhoods.
"People in Ottawa Community Housing will tell you, despite being the biggest landlord of affordable housing in the city, they have a waitlist of 10 years for the units they currently have," he said.
While some new developments are currently underway, Harden said the majority are not affordable.
"In the private rental market what we're seeing across Ottawa are these enormous glass monstrosities being built up, which are not affordable housing — they're not even family housing," he said. "They're housing for affluent folks, frankly, like myself."
"I make a good income as an MPP, but that's not who we're looking to house," he added.
Of the 124 Ontario MPPs in 2019, about a fifth listed "rental property" as one of their sources of income. That amount increases to just under a quarter of MPPs profiting off of rental incomes if their spouses' listed incomes are included.
Finnamore said having people who generate a profit off of rental incomes making policy decisions can be problematic.
"If you're an owner, you have a different point of view and I think that if you're doing it for income, certainly you don't want anything impinging on your income," she said.
Finnamore added that while small landlords typically know their tenants and are more likely to actually live in the development, problems can arise with bigger companies.
"They certainly did not want to pay attention to tenants' concerns [at her previous apartment], they were just concerned about demolishing and getting the money out of you," she said.
Finnamore added she also worries about conflicts of interest.
"All the developers were throwing money around at all the councillors," she said. "The obvious conclusion is you've got to be getting something for your money."
Calling for support
Harden said one possible solution to Ottawa's high housing prices could be implementing an inclusionary zoning policy, following in the footsteps of cities like Montréal and Vancouver, which would require developers to set aside a certain percentage of new developments to be affordable for those with moderate to low incomes.
"The way you can require the private rental market to care about building affordable housing is to require it," Harden said. "It's not going to happen by itself, legislation has to guide it."
Harden referenced the development of Heron Gate as a perfect example of affordable housing in Ottawa being demolished for profit.
"We have to put our heads together because it's not as if in Ottawa there isn't usable space," he said. "There is unused and underutilized space, we just have the wrong priorities in the kind of housing we're building."
Hawley disagreed with implementing inclusionary zoning practices, saying mixed income communities as a result of inclusionary zoning can lead to further division between classes.
"Mixed income communities don't accomplish anything," he said. "If anything, they create division because there's a hierarchy. There's condescension from property owners."
While some advocates think policy is the best approach to change, Hawley said he believes meaningful change can only occur with community action.
"I see structural change not coming from policy, not coming from lobbying politicians, but coming from building up the power of working class people," he said. "It's been taken away from us for so long, we've been led to believe that we have to trust politicians or the change we can make happens once every four years."
"But the real change happens at your home with your neighbors," he added.
With the main source of government-provided tenant support being the Landlord Tenant Board, which Hawley described as "cumbersome" and "not set up for tenants," he said it is all the more important to support neighbours.
"It's a commitment to realize that in our homes, we can protect ourselves and we can defend ourselves," he said.
 
How Contact Tracing Apps work
Friday June 19, 2020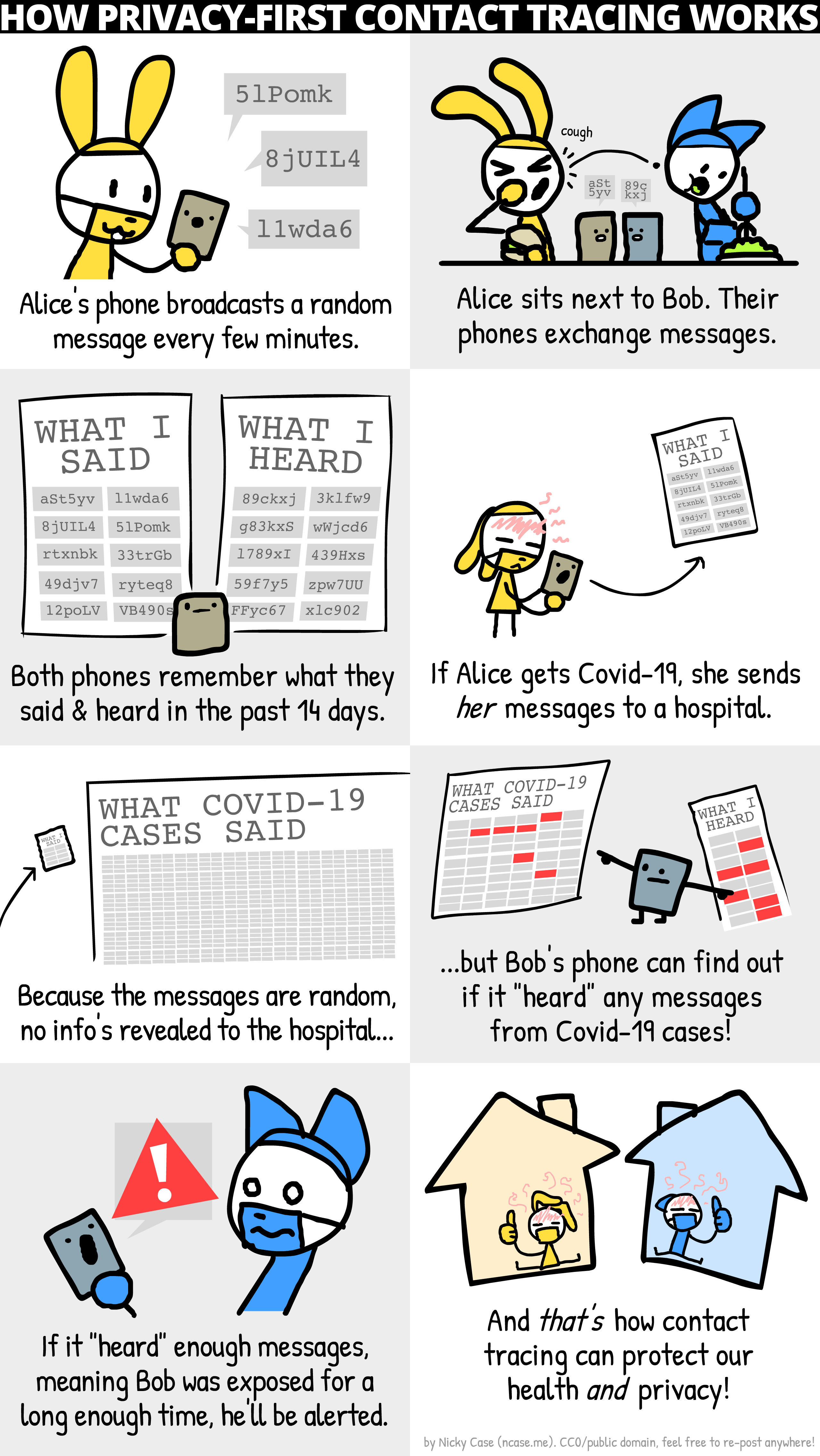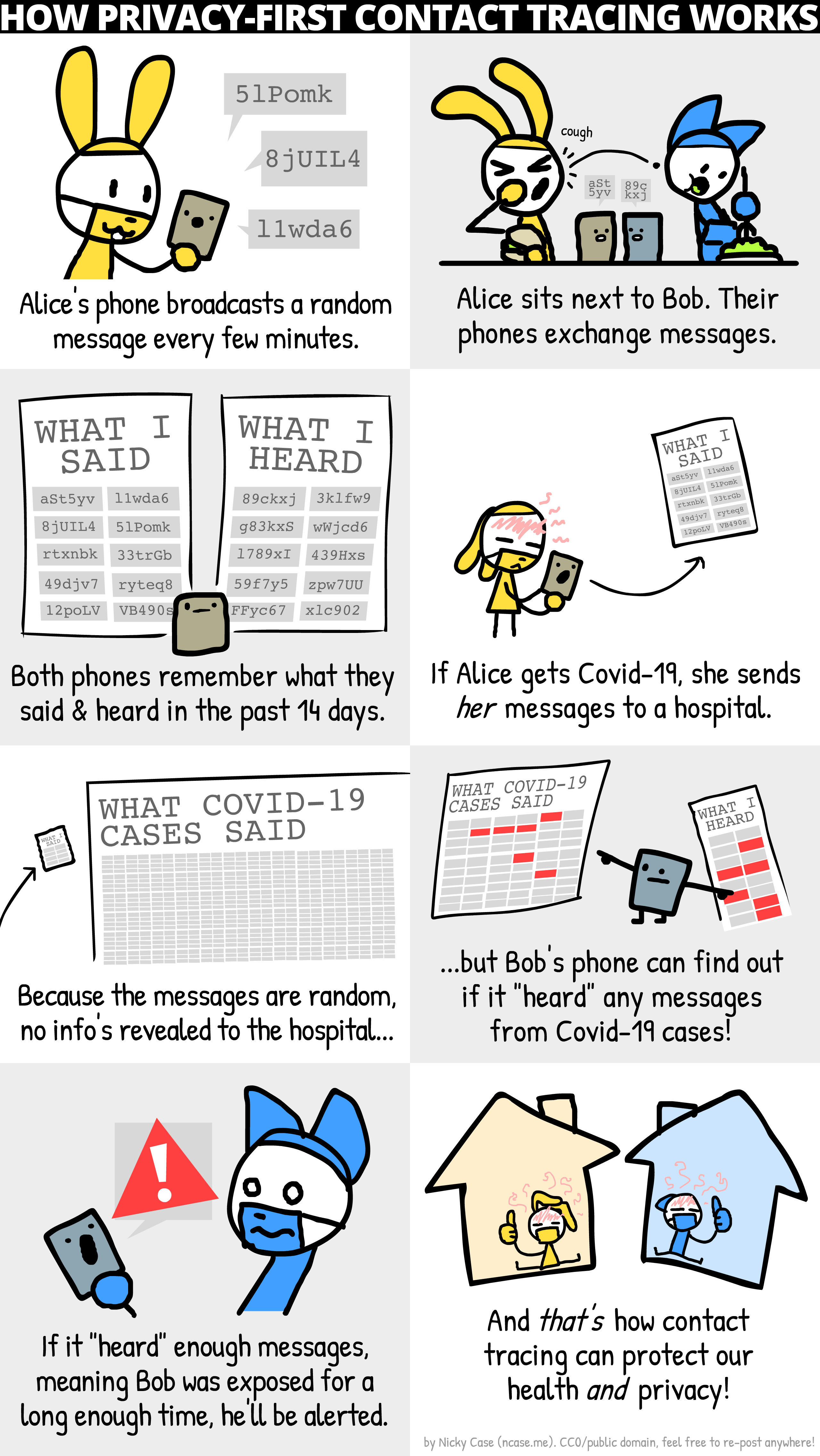 Love under lockdown
The COVID-19 pandemic forces singles to navigate a unique set of circumstances and a completely unexpected dating scene 
Thursday June 11, 2020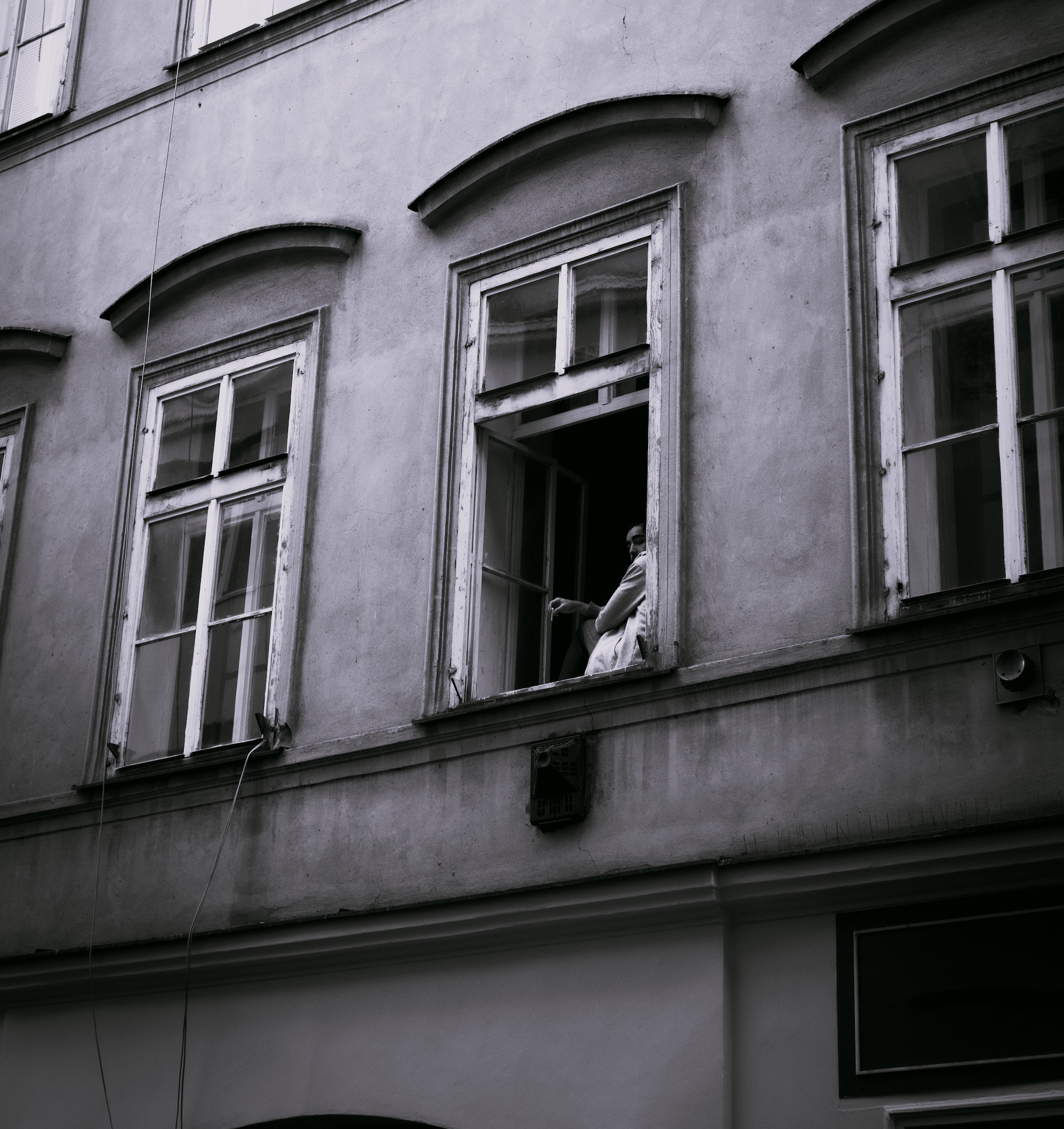 By Hollie Grace James
It seems like only yesterday that Don was enjoying his early 20s, in the thick of Ottawa's vigorous singles scene, meeting women in bars, clubs and through friends. Cue the Coronavirus pandemic and subsequent societal shutdown, and most opportunities to meet potential partners have shifted online. "Dating apps are all that's left," he laments. "I'll admit, I'm using three of them."
What once seemed exciting and limitless, dating in the world of abundance and easy access due to the rising popularity of apps, has actually produced a whole new level of inauthenticity, according to Sue McGarvie, internationally recognized sex and relationship therapist. "Women describe it as a 'soul crushing experience' and men as 'a cat with too many mice to chase'," she says, adding that dating apps have evolved and become primarily geared towards hook-ups, as opposed to long-lasting relationships. McGarvie posits that online use had been declining the past five years, estimating that 60 percent of people were meeting potential partners in person. But with Coronavirus mandated lockdowns, the new norm has shifted yet again. "It's become the 1950's," explains McGarvie. "You're looking at eight weeks of courtship - the "no [sex until after the] third date" rule is over."
Don agrees that dating is now much trickier. "First, texting is odd, and it still feels weird to suddenly offer a video chat to someone you don't really know. Then, it's hard to keep conversations interesting and long-lasting if there is no plan to meet." McGarvie acknowledges that dialogue is more important now than ever and that the current circumstances are forcing people to actually communicate. "Guys who are just looking for like Don, who's open to meeting women in real life, citing sex as a human need, are discovering exactly this, as many women have included a sort of disclaimer in their bios, discouraging social interaction and viewing it as a "red flag." "I might still want to eventually meet women that can't, or won't, go out these days. So I don't want to freak them out by offering to meet," Don explains.
Although physical distancing measures remain in effect, singles aren't necessarily adhering to such strict guidelines. "You go to Costco and [you aren't physical distancing]," says McGarvie. "How is that different from having one person over?" This was the mindset of Carrol, a 30 year-old real estate agent who met up with a Facebook match just prior to the lockdown. "Quarantine gave us a chance to create a friendship and have an opportunity to spend time together without the distractions of having so many people on the go, because [due to the pandemic] we weren't supposed to be hanging out with anyone else." A phenomenon McGarvie says that she, too, has witnessed. "You've had a chance to talk to them, you've had a chance to walk with them and now you're asking them to come over and make things together. When was the last time in a hookup culture that that happened?" Although the pandemic has slowed certain aspects of blossoming relationships, McGarvie admits that on the flip side, dating in quarantine can actually speed up the intimacy stage and she's certain that some unexpected relationships will come out of this.
Julia, 35, and her newfound love interest [looked to be] just be such a prime example. Having met on Tinder two days before the world went into lockdown, he moved into her apartment within a week so that the two could proceed with their relationship whilst adhering to physical distancing recommendations. As the two talked long into the nights, they discovered intimate details about one another that she says would have taken weeks or months to uncover otherwise. "He's my person. I can't believe I waited [until I was] 35 to meet someone I feel this ready for."*
McGarvie explains that, because people were so busy with their daily lives pre-pandemic, it took months to experience a significant number of dates. But, because we currently have the time, if this is the person, you have the opportunity to find out now. "It can certainly be an advantage," she says. Julia sees it as such saying, "He asked me on visit one if I was willing to have kids. The world was ending. Why not? Almost two months later and [it's been] heaven ever since." Ultimately, McGarvie says that the pandemic can be a blessing in disguise. "Figure out what you're looking for because you have the time to do it. Find ways to bring out the best in yourself. The world is your oyster."
*Julia and the man broke up a few weeks after she was interviewed for this article.
CERB provides hope for Ottawa masseuse
Ottawan Original
Monday June 8, 2020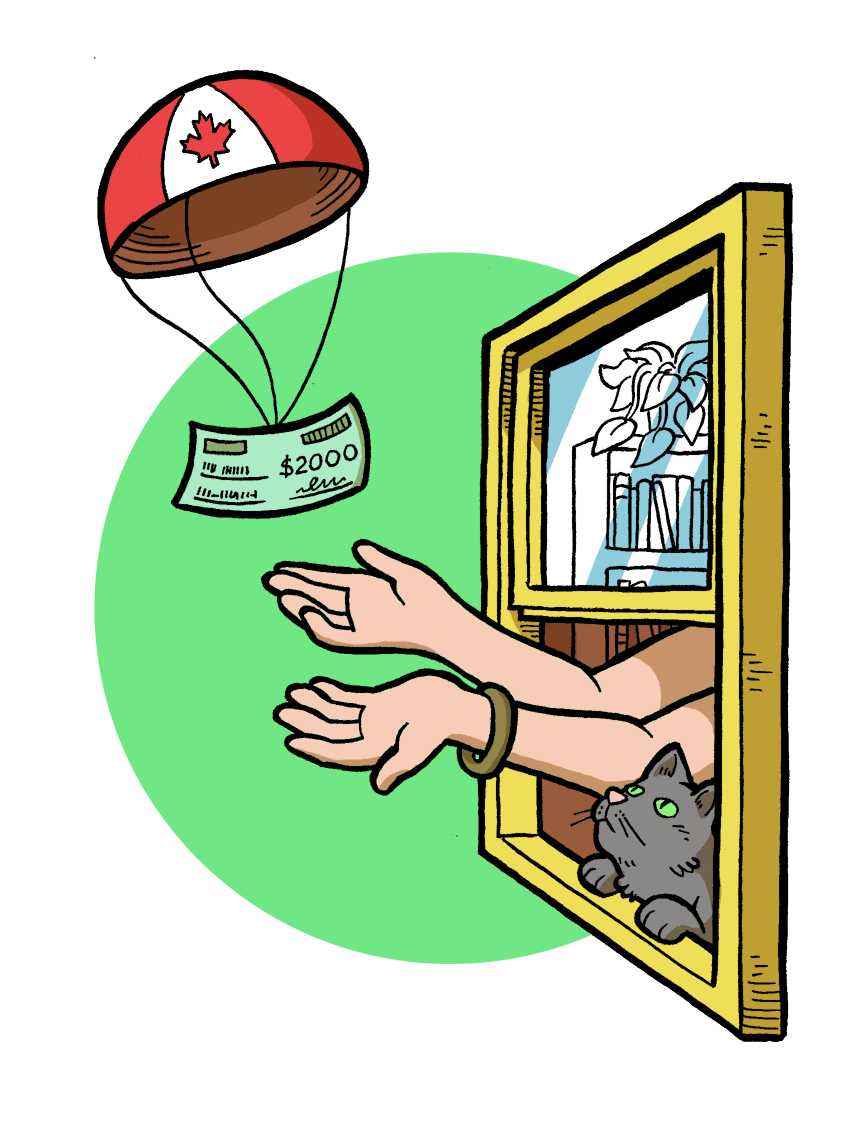 Story by JILLIAN PIPER Illustration by TALBERT JOHNSON
Sarah Richardson was lost when she could no longer work as a registered massage therapist due to COVID-19.
She's one of the millions of Canadians who applied for the Canadian Emergency Response Benefit (CERB), which pays $2,000 every four weeks to those who no longer have paid work during the pandemic and are otherwise excluded from the Employment Insurance (EI) program.
Eight million people have taken advantage of the program so far, according to the Government of Canada's website.
If it weren't for CERB, Richardson said her life would have been completely different.
40-year-old Richardson runs her massage clinic in Little Italy, relying on her self-employment income for her personal living expenses and the clinic rental.
When her clinic had to close down due to COVID-19, she "was really nervous and stressed."
"I thought at one point, I might have to move back home with my parents and give notice [to my landlords]," she added.
Richardson said her new reality came as a shock because she was financially conservative.
"I consider myself to be quite savvy with my money and I'm not a big spender," she said. "Some people probably are already living in a lot of debt, and I'm fortunate that I don't have that problem."
Richardson's one-bedroom apartment, including utilities and a parking space, amounts to around $1,500 per month. The rent for her massage clinic is just over $1,000 per month — not including added costs such as telephone bills.
While Richardson said she had enough money to pay rent for the first month of unemployment, she didn't have the savings to cover expenses over additional months.
"I didn't feel like I would be able to cover," she said. "So I was very relieved when I first heard about [CERB]."
When her parents told her about CERB at the end of March, Richardson had been off work for about two weeks since the College of Massage Therapists Ontario had told its members working was unsafe — even fining masseuses who continued working.
Applying to the program shortly after, Richardson said the quick response she received from CERB "amazed" her.
"I hadn't done my taxes online like that, so I didn't have the [Canadian Revenue Agency (CRA)] number," she said. "So, I was nervous because sometimes those things can take a long time, but I got that within two or three days."
Upon receiving the benefit, Richardson said her concerns melted away.
"I felt like I wouldn't have to worry," she said. "Financially, I didn't really want to have to build up a debt that I would have to pay off when I've worked so hard my whole life to get to where I am."
Richardson said CERB made her feel like she had her independence back.
"I live alone, so I work hard to tend to my needs and be capable of making sure that I'm financially covered and that I can support myself," she said. "So, when I wasn't able to work, it felt like that sort of safe and secure part of my life had been taken away."
"The $2,000 literally just covers my life," she added.
Ian Lee, the MBA director of Carleton University's Sprott School of Business, said CERB's speed also surpassed his expectations.
"It was very, very effective in the short run for providing financial support as quickly as possible," Lee said. "They did it in a remarkably short time."
Lee added that new government programs typically take at least a year or two to implement due to the levels of bureaucracy they must go through before approval.
Lee also noted CERB is more inclusive than employment insurance.
"The EI system was too slow because it's designed with checks and balances," he said. "Not only that, but there's a lot of people who don't qualify for various reasons over the years — [the government] put restrictions on it, so that not every last person that loses their job qualifies for it."
As a self-employed masseuse, Richardson would have fallen through the cracks of EI.
Major Canadian stakeholders, such as Bank of Canada governor Stephen Poloz, deemed CERB and similar automatic support programs beneficial for Canada's economy due to the speed in delivering fiscal support to citizens. Poloz added automatic support systems could help Canada navigate future crises should they arise.
However, Lee was quick to point out flaws with the current CERB system.
"The Government of Canada and the CRA, have the most efficient database of anybody in Canada," Lee explained. "If you wanted to just simply say to the CRA, 'Okay, reverse the flow — instead of [citizens] sending you money every month, you turn around and send them money.'"
"They could've done that and it would've been even faster than the CERB," he said.
Lee added redirecting the flow of money from the CRA, essentially creating a negative income tax, also would have negated fraud because the agency could adjust the CERB to suit individual needs based on recorded incomes.
"With a negative income tax it's customized to each person in terms of how much they made, so you tailor it through the software program to each person," Lee said. "Whereas the CERB was much more crude."
Because the CERB system was more generalized — giving every applicant $2,000 — Lee said there may be more pushback when trying to end the program.
"It's going to be much more difficult politically to wind it down," Lee said. "I don't see any politician standing up saying, 'Okay, now let's let's cut off those cheques,' and I don't see anybody raising their hand saying, 'Please stop sending me $2,000 a month.'"
"There's going to be all kinds of complaining and very angry people when that comes to an end," he added. "It's going to be really, really difficult for any leader to say, 'Look, we just cannot keep printing a quarter of a trillion dollars a year deficit.'"
If the program does get extended, it could have catastrophic results for the nation's economy, Lee said.
"We the taxpayers are going to have to pay back whatever was borrowed and spent and we're going to hit a quarter of a trillion-dollar deficit this year — that's just the deficit, then you add the deficit onto the national debt," he said. "My criticism long term is, this is going to fall disproportionately on young people."
Lee explained that while some might think the economy will bounce back, similarly to how the economy boomed after the World Wars, he said that will most likely not happen because Canada's population, and by extension its workforce, is much older than it was then.
As a result, Lee predicted high inflation or economic stagnation as the two most likely outcomes of racking up national debt long term, which he said could occur anywhere from two to five years from now.
"That's my biggest fear long term is it's going to put us deeply into debt," Lee said. "Because the bigger the debt becomes, the greater the burden down the road."
"The short term and the long term [effects of CERB] are sort of opposite of each other," he added.
Even those who support the idea of a basic income program, which would give all Canadians a living allowance regardless of circumstance, also had problems with CERB and its possible extension.
"We needed the CERB, but we actually, frankly needed a lot better than the CERB," Ottawa Centre MPP Joel Harden said. "We need a plan to save Main Street. We need a plan to help some of the vulnerable people."
Harden, the official opposition critic for persons with disabilities, said CERB highlighted just how low the disability support program benefits really are.
"In a crisis you can get governments agreeing to the notion that $2,000 a month is something like a minimum basic income," Harden said. "But people who exist on the Ontario disability support program … have to exist on, if they're a single individual, about $1,100."
"We have a country where so many hundreds of thousands of disabled people in the province of Ontario, and their caregivers and their families, are being asked to live in poverty," he added.
However, Harden said he understands the need to implement CERB quickly.
"CERB is temporary and there's a lot of exceptions to it," Harden said. "But, I think at the end of the day, the government of Canada was trying to do something to get some money directly into peoples' hands or, you know, we risk the collapse of the economy."
Although Harden said he would like to see government plans to help small businesses and a wealth tax on Canada's billionaire class among other long-term solutions, he hopes CERB shows the potential of basic income programs.
"Maybe COVID-19 was that moment for us to take a deep breath and think about the kind of society we want to create," he said. "To create a society of shared prosperity, where every single person — regardless of who they are, where they live — have an equal opportunity at a decent life."
While Richardson acknowledged criticism of CERB, she remained grateful.
"I felt hope and I felt supported by my country," Richardson said of receiving the benefit.
Richardson also said while she appreciates CERB, she'll be back at work as soon as she can.
"I'm very passionate about my job and it provides me with purpose," she said.
"If I could give up the CERB and be able to work, I would in a heartbeat."

We want to know what questions you have about the Canada Emergency Response Benefit or paths forward for exiting the shutdown. Reply to us at [email protected]
'It's not rocket science': Protecting Ottawa's homeless amid COVID-19
Tuesday May 26, 2020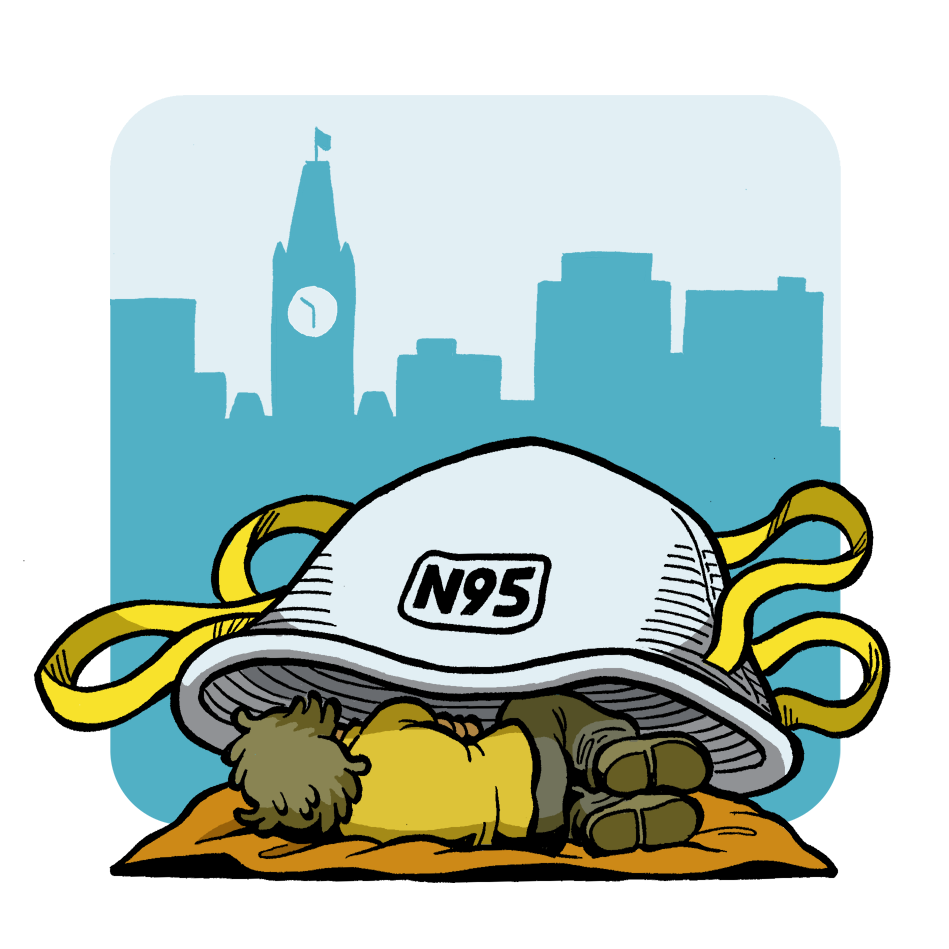 Story by JILLIAN PIPER Illustraion by TALBERT JOHNSON
When Ottawa city councillors declared a homelessness and affordable housing emergency on Jan. 29, it seemed like things were beginning to look up for the city's homeless population. But just two months later, COVID-19 hit.
Citizens are encouraged to stay home as much as possible to avoid increasing the spread of COVID-19, but this recommendation leaves almost 8,000 Ottawans experiencing homelessness vulnerable.
"Some people don't actually have a home and cannot safely distance from others," Somerset Ward city councillor Catherine McKenney said.
"It certainly has highlighted for us the gross inequities in society between those who are housed and who aren't," McKenney, council's liaison on housing and homelessness, said.
The federal government is spending $5.6 million to help Ottawa's homeless during the pandemic, but advocates say more help is needed.
Washroom facilities is one issue those living on the streets are facing now, McKenney said. With community partners, McKenney installed portable toilets on Bank Street and Elgin Street to help provide sanitation for all.
"It's the bare minimum we should be doing," McKenney said, adding there have been increased protocols around the cleaning of those washrooms.
Stu Pitts, a 31-year-old public speaker who previously experienced homelessness in Ottawa, said he was also concerned for bathroom accommodations while businesses are closed due to COVID-19.
"I've been wondering where everyone's been going to the bathroom, like I pretty much always used like a Starbucks or Tim Hortons bathroom or something — and they're all closed," Pitts said of living on the streets.
"There needs to be a lot more public water resources and like bathrooms and stuff available to people at all hours of the night," he added.
Even if those living on the street access a shelter bathroom, Pitts said there are still sanitation challenges amid COVID-19.
"You can't really social distance at a shelter," he said. "Where you go to clean yourself is not necessarily free of contamination."
While the pandemic has presented challenges for shelters, communications director of the Ottawa Mission, Aileen Leo, said the organization has tried to adapt as best it can to new health regulations.
"We are still open," Leo said. "So if you are homeless, or you're a community member and you need support, you can still come to the mission."
"But, we've had to scale back things," she added.
Leo said scaling back involved virtually touring potential housing, online programming, reduced dining room seating, takeout meals, and having only one doorway where all clients are screened before entering.
The organization sends those with symptoms of COVID-19 to the Routhier Community Centre in Lowertown until they have completed 14 days of self-isolation.
Leo also said all staff are wearing personal protective equipment (PPE) including gowns, gloves, and face shields.
Pitts said he hopes community support, such as McNabb arena which recently began providing showers and meals for those living on the streets, continues long after COVID-19.
"Maybe all homeless people should get free gym passes — it's somewhere to go out of the weather and you can shower," he said.
While housing is important, Pitts added resources beyond renting vacant hotel rooms — which the Ottawa government has done for the past few years to house those living on the streets — are necessary to protect the city's homeless population.
"It's going to get worse," Pitts said of the lack of affordable housing in the city.
"They need to do rent forgiveness, or they're just delaying another housing crisis in the future — and there aren't enough hotels for all of us," he added.
Funding for housing was stated as a major priority in the federal government's national housing strategy in 2017, but McKenney said actual financing has yet to take place.
Even if people are sheltered, Pitts said they won't have money to cover basic needs because many would not meet the $5,000 income requirement for the monthly $2,000 Canadian Emergency Response Benefit (CERB).
"You'd have to go out and panhandle to get by still — you'd still be highly at risk," Pitts said.
Even if panhandlers make enough money, many businesses are no longer accepting cash due to COVID-19.
"It's like a double-edged sword," Pitts said. "Homeless people are being more represented as a public health risk to the population — instead of a population that is at-risk during the crisis."
McKenney said if the city doesn't act now to protect the homeless, it will pay in the future.
"In the end, [helping the homeless ...] saves an exceptional amount of money all around, so it's short-sighted when governments don't take action," they said.
Although it will take work to overcome the city's housing crisis, McKenney said a solution is achievable.
"It's complex, but it's certainly not rocket science," they said. "Nobody's asking us to, you know, come up with a cure for cancer or COVID."
"They're asking us to house people, and we know how to do that."
What do you think? Reply to us at '[email protected]theottawan.com'