CERB provides hope for Ottawa masseuse
Ottawan Original
8 June 2020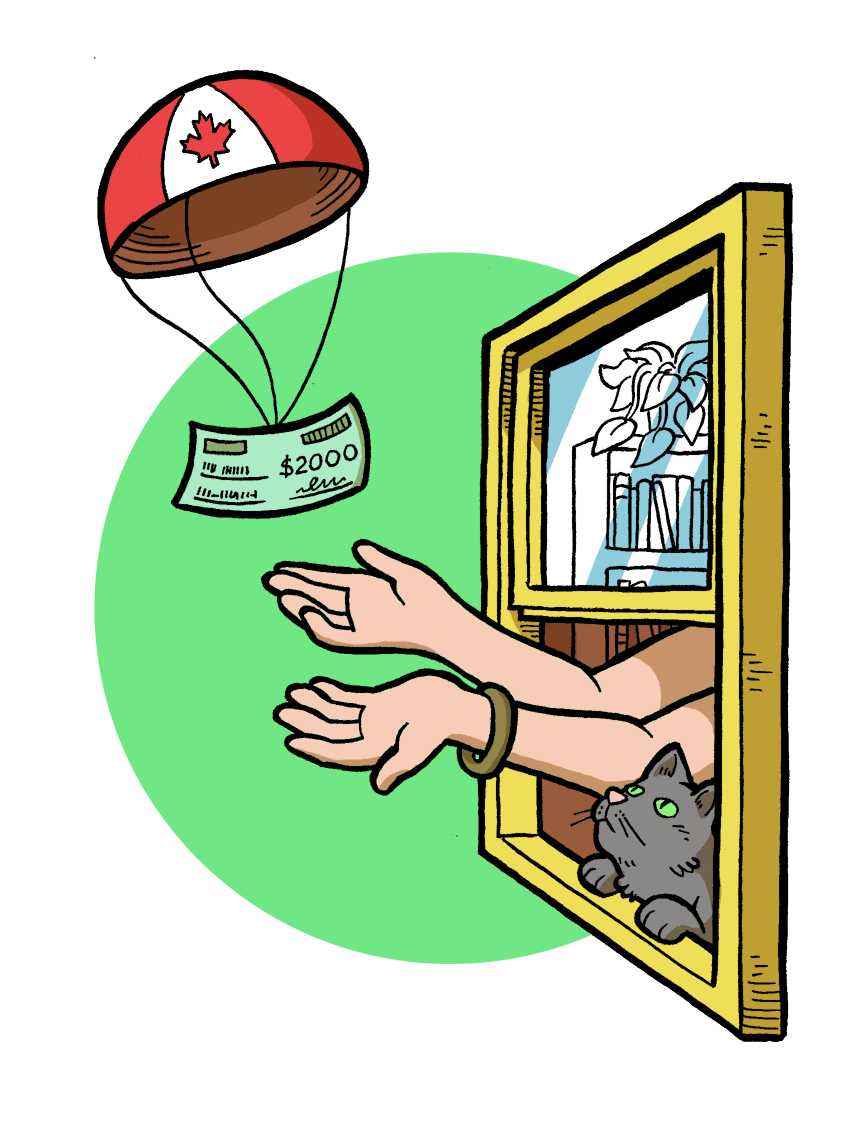 Story by JILLIAN PIPER Illustration by TALBERT JOHNSON
Sarah Richardson was lost when she could no longer work as a registered massage therapist due to COVID-19.
She's one of the millions of Canadians who applied for the Canadian Emergency Response Benefit (CERB), which pays $2,000 every four weeks to those who no longer have paid work during the pandemic and are otherwise excluded from the Employment Insurance (EI) program.
Eight million people have taken advantage of the program so far, according to the Government of Canada's website.
If it weren't for CERB, Richardson said her life would have been completely different.
40-year-old Richardson runs her massage clinic in Little Italy, relying on her self-employment income for her personal living expenses and the clinic rental.
When her clinic had to close down due to COVID-19, she "was really nervous and stressed."
"I thought at one point, I might have to move back home with my parents and give notice [to my landlords]," she added.
Richardson said her new reality came as a shock because she was financially conservative.
"I consider myself to be quite savvy with my money and I'm not a big spender," she said. "Some people probably are already living in a lot of debt, and I'm fortunate that I don't have that problem."
Richardson's one-bedroom apartment, including utilities and a parking space, amounts to around $1,500 per month. The rent for her massage clinic is just over $1,000 per month — not including added costs such as telephone bills.
While Richardson said she had enough money to pay rent for the first month of unemployment, she didn't have the savings to cover expenses over additional months.
"I didn't feel like I would be able to cover," she said. "So I was very relieved when I first heard about [CERB]."
When her parents told her about CERB at the end of March, Richardson had been off work for about two weeks since the College of Massage Therapists Ontario had told its members working was unsafe — even fining masseuses who continued working.
Applying to the program shortly after, Richardson said the quick response she received from CERB "amazed" her.
"I hadn't done my taxes online like that, so I didn't have the [Canadian Revenue Agency (CRA)] number," she said. "So, I was nervous because sometimes those things can take a long time, but I got that within two or three days."
Upon receiving the benefit, Richardson said her concerns melted away.
"I felt like I wouldn't have to worry," she said. "Financially, I didn't really want to have to build up a debt that I would have to pay off when I've worked so hard my whole life to get to where I am."
Richardson said CERB made her feel like she had her independence back.
"I live alone, so I work hard to tend to my needs and be capable of making sure that I'm financially covered and that I can support myself," she said. "So, when I wasn't able to work, it felt like that sort of safe and secure part of my life had been taken away."
"The $2,000 literally just covers my life," she added.
Ian Lee, the MBA director of Carleton University's Sprott School of Business, said CERB's speed also surpassed his expectations.
"It was very, very effective in the short run for providing financial support as quickly as possible," Lee said. "They did it in a remarkably short time."
Lee added that new government programs typically take at least a year or two to implement due to the levels of bureaucracy they must go through before approval.
Lee also noted CERB is more inclusive than employment insurance.
"The EI system was too slow because it's designed with checks and balances," he said. "Not only that, but there's a lot of people who don't qualify for various reasons over the years — [the government] put restrictions on it, so that not every last person that loses their job qualifies for it."
As a self-employed masseuse, Richardson would have fallen through the cracks of EI.
Major Canadian stakeholders, such as Bank of Canada governor Stephen Poloz, deemed CERB and similar automatic support programs beneficial for Canada's economy due to the speed in delivering fiscal support to citizens. Poloz added automatic support systems could help Canada navigate future crises should they arise.
However, Lee was quick to point out flaws with the current CERB system.
"The Government of Canada and the CRA, have the most efficient database of anybody in Canada," Lee explained. "If you wanted to just simply say to the CRA, 'Okay, reverse the flow — instead of [citizens] sending you money every month, you turn around and send them money.'"
"They could've done that and it would've been even faster than the CERB," he said.
Lee added redirecting the flow of money from the CRA, essentially creating a negative income tax, also would have negated fraud because the agency could adjust the CERB to suit individual needs based on recorded incomes.
"With a negative income tax it's customized to each person in terms of how much they made, so you tailor it through the software program to each person," Lee said. "Whereas the CERB was much more crude."
Because the CERB system was more generalized — giving every applicant $2,000 — Lee said there may be more pushback when trying to end the program.
"It's going to be much more difficult politically to wind it down," Lee said. "I don't see any politician standing up saying, 'Okay, now let's let's cut off those cheques,' and I don't see anybody raising their hand saying, 'Please stop sending me $2,000 a month.'"
"There's going to be all kinds of complaining and very angry people when that comes to an end," he added. "It's going to be really, really difficult for any leader to say, 'Look, we just cannot keep printing a quarter of a trillion dollars a year deficit.'"
If the program does get extended, it could have catastrophic results for the nation's economy, Lee said.
"We the taxpayers are going to have to pay back whatever was borrowed and spent and we're going to hit a quarter of a trillion-dollar deficit this year — that's just the deficit, then you add the deficit onto the national debt," he said. "My criticism long term is, this is going to fall disproportionately on young people."
Lee explained that while some might think the economy will bounce back, similarly to how the economy boomed after the World Wars, he said that will most likely not happen because Canada's population, and by extension its workforce, is much older than it was then.
As a result, Lee predicted high inflation or economic stagnation as the two most likely outcomes of racking up national debt long term, which he said could occur anywhere from two to five years from now.
"That's my biggest fear long term is it's going to put us deeply into debt," Lee said. "Because the bigger the debt becomes, the greater the burden down the road."
"The short term and the long term [effects of CERB] are sort of opposite of each other," he added.
Even those who support the idea of a basic income program, which would give all Canadians a living allowance regardless of circumstance, also had problems with CERB and its possible extension.
"We needed the CERB, but we actually, frankly needed a lot better than the CERB," Ottawa Centre MPP Joel Harden said. "We need a plan to save Main Street. We need a plan to help some of the vulnerable people."
Harden, the official opposition critic for persons with disabilities, said CERB highlighted just how low the disability support program benefits really are.
"In a crisis you can get governments agreeing to the notion that $2,000 a month is something like a minimum basic income," Harden said. "But people who exist on the Ontario disability support program … have to exist on, if they're a single individual, about $1,100."
"We have a country where so many hundreds of thousands of disabled people in the province of Ontario, and their caregivers and their families, are being asked to live in poverty," he added.
However, Harden said he understands the need to implement CERB quickly.
"CERB is temporary and there's a lot of exceptions to it," Harden said. "But, I think at the end of the day, the government of Canada was trying to do something to get some money directly into peoples' hands or, you know, we risk the collapse of the economy."
Although Harden said he would like to see government plans to help small businesses and a wealth tax on Canada's billionaire class among other long-term solutions, he hopes CERB shows the potential of basic income programs.
"Maybe COVID-19 was that moment for us to take a deep breath and think about the kind of society we want to create," he said. "To create a society of shared prosperity, where every single person — regardless of who they are, where they live — have an equal opportunity at a decent life."
While Richardson acknowledged criticism of CERB, she remained grateful.
"I felt hope and I felt supported by my country," Richardson said of receiving the benefit.
Richardson also said while she appreciates CERB, she'll be back at work as soon as she can.
"I'm very passionate about my job and it provides me with purpose," she said.
"If I could give up the CERB and be able to work, I would in a heartbeat."

We want to know what questions you have about the Canada Emergency Response Benefit or paths forward for exiting the shutdown. Reply to us at [email protected]